Mother's Day is this Sunday, which means that flower shops will be busy, Hallmark stock should be up, and you can expect long lines at brunches as children of all ages try to figure out some meaningful way to thank Moms for all they do, and all they mean to us. This Mother's Day, maybe you can get your mom a clue so she can get more use out of her PC and maybe video chat with the grandkids every once in awhile.
My older boys use YouTube and Hulu in place of television, and get most of their movie content streamed from Netflix instead of watching cable networks like HBO or Showtime. They live in some alternate, pixelated, 8-bit universe called Minecraft, but they stop by to raid the refrigerator every once in awhile if they get hungry.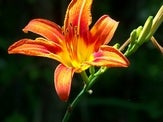 My daughter has been five for all of two weeks, and yet she is adept in the ways of iOS. She searches for and watches YouTube clips on the iPad that crack her up. She draws awesome artwork using the Adobe Ideas app, she can create beautifully unique patterns in Gravilux, and she has mastered getting the maximum stars on every level of Cut the Rope–on the iPad and the iPhone. We never taught her really. Somehow, navigating iOS and using the iPhone and iPad just came naturally to her.
Technology evolves rapidly, and each successive generation seems to be 'smarter' than the one before it–as if all of the tech knowledge of the past was genetically encoded in them at birth, and they used that as a foundation to build on and learn even more. It seems only fair then–on a day dedicated to repaying moms for being moms–that sons and daughters should pay it forward by sharing some of that advanced tech wisdom with their mothers.
In fact, next to a bouquet of flowers and a card, the gift of tech support may be the most thoughtful thing you can give your mom on Mother's Day.A survey by security vendor F-Secure found that 71 percent of respondents have conducted some form of tech support for their mothers. A quarter of those surveyed indicated that they provide tech support for their moms frequently.
So, this Sunday, invest some time helping your mom learn how to use that webcam so she can video chat with her grandchildren, or teach her how to view those photos and video clips you keep sending on the emails. Help her protect her PC from malicious attacks, and help her get a clue on avoiding phishing attacks. Giving her a tech education will last a lot longer than flowers or chocolates, and it will pay dividends all year.
If nothing else, set her up with a Grovo account, and buy her a copy of my book Essential Computer Security. If you want to be extra thoughtful, buy her a Kindle, or an iPad with the Kindle app, and get her the Kindle version of my book pre-loaded on the device.
To all the mother's out there–have a great and fabulous Mother's Day. Cards, flowers, brunches, and gifts can never truly repay you for all you do, or express how much you mean to your children.