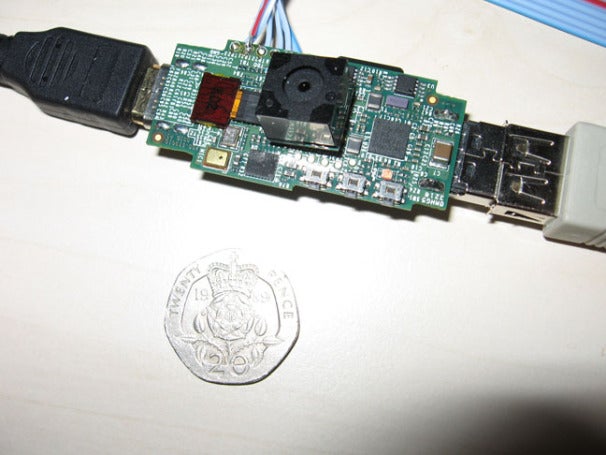 For a while now I've eyed the netbook/laptop market with a mixture of envy and disgust. I always scoffed at the notion of a netbook, since you couldn't do much on them and I was a my-computer-as-a-swiss-army-knife kind of nerd. I also really wanted a smaller form factor and something more portable, but until recently I couldn't have my cake and eat it too.
That's all changed with the latest and greatest tech making everything smaller and faster, and since then I've been looking to do more with less. Well, it looks like I might have found an instance of more with the least; and I'm certainly looking forward to it.
What is it? A fully functioning linux box the size of a USB stick. HDMI: check. USB: check (well, one port, anyway). 700MHz ARM11 processor with 128MB of memory: check. With storage available through an SD card slot, this thing has everything you could want in a computer (except maybe Wi-Fi; at the time of this writing I was unable to confirm networking), and you can carry it on your key-chain.
The Raspberry Pi Foundation is here to put the fun back into computing and promote computer science, and they expect to in many cases donate these computers through their foundation to interested and deserving students. There's no catch, either, as its creators intend to sell the system for $25. That's right, twenty-five bucks.
What an amazing idea. Put me down for four, at least.
[Raspberrypi.org via geek.com and Hacker News]
Like this? You might also enjoy…
Get your GeekTech on: Twitter – Facebook – RSS | Tip us off