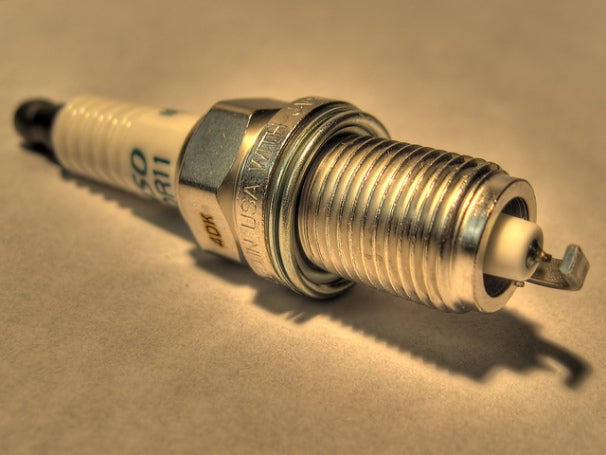 Spark plugs are terrible little devils. They don't work if it's too cold outside, they're inefficient, they can tear apart your engine, they can reduce gas mileage, and they're part of the emissions problem in modern cars. Luckily, a more efficient way to drive could be right around the corner: Researchers from Japan have figured out a way to replace traditional spark plugs with a laser-based alternative.
Both the spark plug and the laser have been around for quite a while and we've been using both to blow things up for a while as well, so why didn't anybody think of this before? Researches say that lasers were "big, inefficient, and unstable," as researcher Takunori Taira put it, making them impractical to replace spark plugs.
Instead, one system of lasers proposed for use in the engines are quite small and use a ceramic compound instead of traditional crystals. The spark plug-sized ceramic laser gathers energy from two or three other small lasers via an optical cable. The ceramic laser can then release the energy in 800 trillionths of a second.
Now, why should we replace spark plugs with lasers? After all the spark plug would be incredibly hard to phase out, especially considering the fact that about 50 million cars are sold every year and they all use spark plugs to run.
The spark plug is a horribly inefficient device. The plugs have to be calibrated to the upstroke of the piston they're in. They don't burn all the fuel in the cylinder, which leaves buildup in the engine and wastes energy. Not to mention that if the wires that connect the plugs to the battery are hooked up wrong or if the plugs are in some other way mistimed, the motor could quite literally be blown to shrapnel.
Now, by replacing spark plugs with lasers, these problems can be mitigated or eliminated altogether. In fact, researchers at Ford's UK Research and Development department in Essex won a grant to further develop the laser ignition system, according to The Telegraph.
While chemistry shows us that no reaction can be 100% efficient, working on improving the combustion process in an engine is a very positive step in getting automobiles as efficient as possible.
[OSA, BBC, The Telegraph / Photo: Razor512 on Flickr (CC BY 2.0)]
Like this? You might also enjoy…
Get your GeekTech on: Twitter – Facebook – RSS | Tip us off