If your company or department uses a single Gmail address monitored by multiple people, here's an easy way to share it among an unlimited number of people while adding the capability to assign tasks to specific people so no work slips through the cracks. Shared Inbox for Gmail is a Google Apps Marketplace add-on from a company called RunMyProcess that installs on your domain in minutes and simplifies the job of tracking one inbox between multiple users.
To use it, you first need a separate Google Apps e-mail address to share between your existing users. For instance, service@yourdomain.com or sales@yourdomain.com. Once you have that address set up, cruise over to the Shared Inbox for Gmail page in the Google Apps Marketplace and sign up. It's free for up to three users, and $10 per user per year for additional users. Because the service charges by the user, rather than by the shared inbox, you can create as many shared inboxes as you need.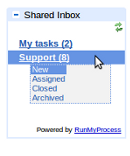 Once installed, Shared Inbox lives in the left sidebar of Gmail, where any inboxes you've shared with a given user will appear with an unread count beside the inbox's name. A dropdown menu lets users navigate directly to unread messages, assigned messages, and archives.
Within a given message, you can assign the message as a task for any other user on the inbox, so each message acts like a support ticket that you can quickly track from the inbox itself.
I like the principle behind RunMyProcess Shared Inbox for Gmail, because it eliminates the need for a separate system to track sales or support tickets while still helping you ensure that no enquiry goes unanswered. And if your team is very small (as in three people), it's hard to argue the price. It also compares favorably to other cloud support ticket services, like Zoho Support, which costs $12 per agent per month. Of course, it lacks the robust process tracking and customization of these more dedicated services, too. But if your primary concern is making sure everyone in your group can access a single Google Apps and respond reliably to each message, Shared Inbox has you covered.