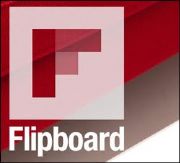 Traffic on Flipboard, which turns your social and media feeds into a sleek digital magazine, has increased 300 percent since early March, to between 8 and 9 million flips, CEO Mike McCue told Liz Gannes of AllThingsD. A flip on the touchscreen app is roughly equivalent to a page view.
[Read: Flipboard–A Great Apple iPad App Gets Better]
The social news app also doubled its user base in two months, and I was one of them. Flipboard was the third app I installed on my new iPad last month, after Evernote (for productivity) and Angry Birds (for unproductivity).
For those of us trying to make a living in the new media landscape, Flipboard gives a preview of what our work might look like in a few years: Digital, clickable, multimedia, interactive, instantly updated, streamlined and personalized.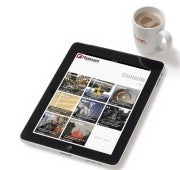 The app picks up Facebook, Twitter, Google Reader, Flickr and other social media feeds and arranges them into a magazine-like layout. Instead of wandering aimless like a cloud through my browser, mailbox, and desktop to see my RSS feeds, friends' updates, Tweets, and favorite New York Times stories, I get them, neatly assembled, usually with a lovely photo of somebody else's vacation on the cover.
Users can add curated topical feeds and Flipboard versions of a growing stable of publications, ranging from Lonely Planet to Business Insider.
It bypasses advertising, which scares me as a writer. As a reader, I like it a lot.
It's been a good couple of weeks for Flipboard, which picked up Webbys and People's Voice Awards for tablet news and social apps, and signed the Oprah Winfrey media empire in mid-April and Forbes this week, according to Folio.
Flipboard for iPhone will launch this summer, McCue told Gannes. "I mentioned to McCue that Flipboard might now be part of my weekend routine but it's too lightweight for my weekday thirst to tap into real-time news and conversation," Gannes writes. "McCue responded that the new iPhone app is designed to be a weekday tool for people like me."
A MacOS version has been rumored but not announced.