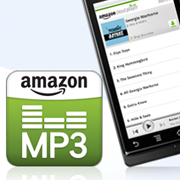 Amazon's Cloud Player music streaming service launched only with Android compatibility, but an update rolled out this weekend quietly introduced basic support for Apple's iOS. If you have an Amazon Cloud Drive account (5GB free, plus a free 20GB upgrade if you purchase an album via Amazon MP3), you can now stream music on iOS devices too.
There's no native iOS app for Amazon's Cloud Player, such as the one for Android smartphone owners, but instead, you can listen to your songs stored online via Safari, the built-in browser on iOS. And as TechCrunch and Engadget note, it works like a charm.
To get it working, you just have to point Safari on an iPhone or iPad to the Amazon Cloud Player site. A warning page will tell you that your browser is not supported, but you'll just have to ignore that. Once you're past the warning screen, you're in: you can see all your songs stored on Amazon's servers.
You then just have to select the song or playlist you want to play, and music will start streaming to your iOS device. It even works with the iOS multitasking and volume controls (play/pause/skip songs), so you can listen in the background while playing your favorite game. If a call or push notification comes through, music will pause, just like you would be listening from the native iPod app.
Using the Amazon Cloud Player Web interface from iOS has its caveats though: you can't do drag and drop to rearrange songs in playlists, and you can't upload files because it requires Flash. The latter shouldn't be a big problem, as probably most users of Amazon Cloud Player upload their songs via a regular computer. But this basic iOS compatibility should be enough for iPhone and iPad owners until Apple unveils its own cloud music service.
Follow Daniel Ionescu and Today @ PCWorld on Twitter