Publisher Conde Nast may start selling in-app subscriptions via Apple's iPad as soon as next week according to the New York Post.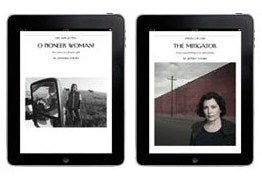 "A source familiar with the situation" told the paper that The New Yorker will be the first publication available on the tablet.
According to the Post, the publisher will start selling in-app subscriptions to other magazines that are currently available on the iPad only as single copy editions by the end of May. Those publications include Wired, Golf Digest, Glamour, Vanity Fair, Self, Allure and GQ.
Currently single editions are priced similarly to the newsstand copy, usually $3.99 or $4.99, depending on the magazine. In-app subscriptions will change pricing to $1.99 per issue or $19.99 for an annual subscription.
The move to in-app subscriptions might be a boon for the publisher, who initially saw strong single issue iPad sales. Numbers have continued to decline in recent months.
Lower prices and a subscription option will make Conde Nast's magazines more appealing to consumers, but it isn't the only thing the company needs to consider to be successful.
Many folks from Journalism think tank Poynter Institute point to a variety of reasons iPad publications haven't taken off.
Patrick Thornton says iPad news apps need to be tested for accessibility and usability. More specifically, he noticed that several applications didn't work well with the iOS VoiceOver feature and many were disorienting because they lacked a back button and search option.
Regina McCombs, also from Poynter, found a list of reasons "Why iPads are hot but iPad magazines aren't" from designer Joe Zeff.
Zeff claims three big reasons iPad magazines haven't been successful: publishers don't make their digital publications different than the print product, consumer habits are evolving and digital magazines need a subscription model.
Obviously number three on that list has been addressed and number two will be with time, but the first one should be publishers' main concern going forward.
"No. 1 is at the top of our list for a reason — the sales figures will continue to disappoint as long as publishers are singularly focused on republishing content for as many new devices as possible," Zeff writes.
He goes on to suggest that digital publishing should complement print, not replace it.