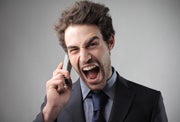 New research from engineers in South Korea promises a new way to top up your phone's battery: by shouting at it. This comes via a technique that turns energy from sound into electricity, and would allow a phone to be charged while you hold a conversation-just don't throw you charger away any time soon.
The breakthrough comes from Dr Sang-Woo Kim of Sungkyunkwan University in Seoul, South Korea, who according to the UK's Telegraph has been working on a prototype of the technology that can convert sound of around 100 decibels (the equivalent of loud traffic) into 50 millivolts of electricity. Admittedly, this is not enough to fully power a phone, but further development is hoped to improve the technology.
To transform sound into electricity, small zinc oxide wires are placed between two electrodes and a pad on top vibrates when hit by sound waves. This apparently causes the wires to compress and release, generating an electrical charge for small devices such as mobile phones. The louder the sound, the more energy the technology can generate.
"Sound power can be used for various novel applications including cellular phones that can be charged during conversations and sound-insulating walls near highways that generate electricity from the sound of passing vehicles," said Dr Sang-Woo Kim.
The technology has nonetheless interesting future applications for mobile phones and other gadgets. Your phone could charge itself from the noise in a busy bus or subway station, and you would never run out of battery at a concert or in the club. Theoretically, using this technology your phone would also be able to charge while hold a conversation, but the sound levels in this situation are not high enough, unless… you shout at it.
Follow Daniel Ionescu and Today @ PCWorld on Twitter