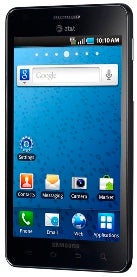 Samsung's Android-based Infuse 4G with its 4.5-inch super AMOLED screen is coming to AT&T on May 15 for $200 with a new two-year contract.
The latest handset from Samsung claims to be the thinnest smartphone available in the U.S. at just 0.35 of an inch thick (the iPhone 4's profile is thicker at 0.37 of an inch). The Infuse weighs about 5 ounces.
Samsung and AT&T are pulling out all the stops for the new Android device offering free games, video downloads, a sweepstakes giveaway and a pretty sweet looking handset for Android fans.
If you're thinking about the Samsung Infuse 4G for your next smartphone, here's everything you need to know before you head over to an AT&T store on Sunday.
The Specs
The Infuse 4G features a 4.5-inch super AMOLED display with 480-by-800 resolution, a single-core ARM 1.2GHz processor, microSD card slot supporting up to 32GB, microUSB, 8 megapixel rear-facing camera capable of 720p video capture, and 1.3 megapixel front-facing camera for video chat.
The device runs Android 2.2 (Froyo) including Adobe Flash 10.1. Samsung claims the Infuse 4G's battery has eight hours of talk time and 400 hours of standby time.
Angry Goodies
Samsung's Infuse 4G on AT&T will come preloaded with Rovio's popular smartphone game Angry Birds, including a secret level just for Infuse owners. Samsung says the new level will be a special "Golden Egg" level and once you finish it you can register for a sweepstakes draw. The grand prize includes a 55-inch Samsung 3D HDTV and a Samsung 3D Blu-ray home theater system. You can find Samsung's Infuse sweepstakes regulations online; entry deadline is September 15, 2011.
If Angry Birds doesn't interest you, Samsung says the first 500,000 Samsung Infuse 4G owners will also get a $25 voucher to download movie content from Media Hub, Samsung's online video content store. The Infuse 4G will also come with a 2GB SD microSD card preloaded with summer movie trailers (don't worry, you can wipe it and put the card to good use).
There's also a rumor AT&T will allow sideloading on the Samsung Infuse 4G, meaning you can use apps that aren't offered on Android's Market. That's good news since it means you should be able to load the Infuse with Amazon's Appstore for Android if you wanted to.
Non-4G, 4G
It may be called a 4G phone, but Samsung's Infuse handset does not play nicely with fourth generation cellular standards such at Long Term Evolution (LTE). Instead, the device will use AT&T's HSPA+ network, which promises 4G speeds that are faster than typical 3G networks. AT&T says HSPA+ is delivering average network speeds of up to 6 megabits per second. During PCWorld's most recent 4G speed tests in 13 cities nationwide, AT&T's HSPA+ network reached average speeds of 2.48 Mbps. AT&T's 3G speeds in 2010 averaged 1.37 Mbps during PCWorld tests.
Connect with Ian Paul (@ianpaul) and Today@PCWorld on Twitter for the latest tech news and analysis.