At a Glance
Pros
Dual-core power and 4G speeds
Big, beautiful display
Cons
No camera shutter button
A lot of preinstalled software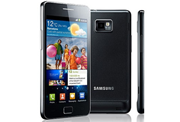 When we first got our hands on the Samsung Galaxy S II back in February at Mobile World Congress in Barcelona, we were anxious to get it into the office so we could test it fully. The Galaxy S II builds on Samsung's successful line of Galaxy Android phones with new display technology, a dual-core processor, and 4G speeds. The Galaxy S II is available in Europe and Asia, but Samsung has not yet announced a U.S. carrier nor details about pricing and availability. How does the Galaxy S II stack up against the other 4G dual-core beasts we've seen this year? Read on to find out.
Superthin Design
The first thing I noticed when I picked up the Galaxy S II was how thin and light it is. It felt pretty good in hand, too–less plasticky than some of the previous-generation Galaxy S phones. Overall, the phone has an attractive, minimalist look, but it doesn't feel as well-constructed as the HTC Thunderbolt 4G or the upcoming HTC Sensation on T-Mobile. One nice feature is that the face is made of Gorilla Glass, which is the same scratch-resistant glass that the Apple iPhone 4. Glossy black plastic covers the edges of the phone, while the battery cover is a somewhat flimsy textured plastic.
Measuring 4.9 inches tall by 2.6 inches wide by 0.3 inch thick, the Galaxy S II is remarkably svelte. But given that it has a 4.3-inch display, it still takes up a lot of space in your pocket or handbag. Nevertheless, at 4 ounces, it's comfortable to hold for long periods of time.
The button layout is a bit strange on the Galaxy S II. Right away, I noticed that the Google Search button was missing. Touch-sensitive Menu and Back buttons flank a physical Home button. I don't understand the purpose of the large physical Home key, but I didn't find myself missing the absent Search key much. You'll find the volume rocker on the left spine of the phone and the Power button on the right. The micro-USB port sits at the bottom of the phone while a 3.5mm headphone jack is at the top.
Noticeably absent are an HDMI port (for connecting your phone to your HDTV) and a physical camera shutter button (which I'll discuss in more detail later).
Super AMOLED Plus Display
The Galaxy S II's display is gorgeous–one of the best we've ever seen. It uses Samsung's Super AMOLED Plus display technology, which we first saw at CES. According to Samsung, Super AMOLED Plus displays have 50 percent more subpixels than the first-generation Super AMOLED displays and perform even better that their predecessors in bright light. With a 4.3-inch display, the newest Galaxy's screen is 0.3 inch longer diagonally than the screens on the older-gen phones.
Colors looked bright, details were crisp, and the viewing angles were very good. Blacks were deep and colors were richly saturated without being overdone. Even when held in direct sunlight, the Galaxy S II's display remained incredibly visible.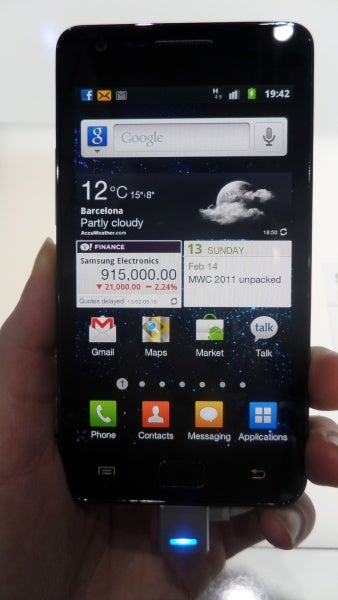 Revamped TouchWiz 4.0 With Gingerbread
Finally we got to review a phone with the latest version of Android–version 2.3 (aka Gingerbread). Though the Galaxy S II also runs a Samsung-built overlay, TouchWiz 4.0, most of the new features in Gingerbread are untouched.
The Galaxy S II's keyboard isn't the native Android one, but it retains the multitouch key-chording feature (you can simultaneously press Shift and a letter to get a symbol or number–no need to switch between modes) and the ability to use your voice to correct words as you type. The copy-and-paste feature behaves more-or-less the same as in the standard Android setup, but it looks slightly different. You can quickly select text just by pressing and holding a word. Then you can adjust the chunk of text that you want to select by dragging the arrows that appear around the text. The Samsung's keyboard keys are slightly longer and more widely spaced than the stock Gingerbread keyboard keys, and the font is a bit larger on the keys. The Samsung keyboard replaces the emoticon key on the Android keyboard with a return key, which is a more useful function, in my opinion. And Swype fanatics can rejoice: The Galaxy S II comes with everybody's favorite keyboard app preinstalled.
The user interface for the cameras differs from the stock Gingerbread version, but you can still switch between the front-facing camera and the back-facing one via a consistent icon at the top of the camera viewer. Google introduced this small but useful feature in Gingerbread in anticipation of an onslaught of smartphones with front-facing cameras due out this year.
TouchWiz 4.0 isn't much different from the previous version, but there are a few aesthetic and functional enhancements here and there. I'm not the biggest fan of TouchWiz, simply because I prefer a more straightforward Android experience. With TouchWiz 4.0 you get seven homescreens that you can customize with all the widgets and shortcuts your heart desires.
Taking a page from (or directly ripping off) HTC Sense, TouchWiz lets you pinch your homescreen to see thumbnail-size versions of all of your screens. Samsung borrowed another feature from HTC Sense, too: When the phone is ringing or playing music, you can silence it by flipping it face-down on a surface.
Contacts gets some cool new gesture-based functions. Swipe right on your friend's name, and you'll start a call with them; swipe left on their name, and you'll jump to the SMS composer, where you can send them a text message. Each of your contact's cards comes with your communication history–for example, when you last called, texted, or e-mailed the person.
One funny new feature is the ability to reject a call by sending a text message.Let's say that your brother is calling to ask when you're going to pay him back for dinner the other night. A menu will come up giving you the option to answer the call, hang up, or reject it with a text that says "I'll pay you back tomorrow!"
Samsung throws a few other gesture-based controls into the mix that seem more like gimmicks than like something most people would actually use. For example, you can zoom in and out of images in your gallery or in the browser by tilting the phone. It looks neat, I guess, but it feels kind of awkward.
Multimedia: Hubs Abound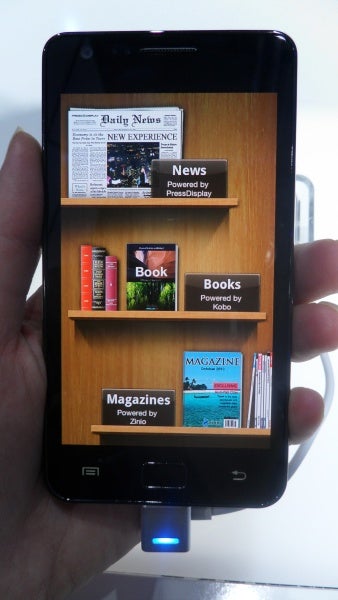 The new version of TouchWiz comes with new Music, Game, and Readers Hubs that join the Social and Media Hubs. Powered by 7Digital, the Music Hub is essentially an Amazon MP3 alternative. You can also use the Music Hub to organize your own library of music. I preferred using the built-in TouchWiz music player, which gets a nice facelift in this version of the software.
The Game Hub, powered by Gameloft, organizes games for purchase by social games and HD games. The Readers Hub is broken into three services: Kobo (for Books), Zinio (for Magazines), and Press Display (for News).
Like all Galaxy phones, the S II provides the Media Hub for your movie and TV-watching pleasure. Video looked fantastic on the handset's display and played back smoothly. Even if you don't like Samsung's Media Hub, you're going to want to watch a lot of movies and TV shows on this phone.
Superb 8-Megapixel Camera
Like many other recent high-end phones, the Galaxy S II has an 8-megapixel camera plus a front-facing camera for video calls. I was very impressed with the image quality of my photos, both indoor shots and outdoor ones. The shutter speed on the camera was fast enough to capture photos of sports, kids, and other quick-moving subjects.
One unfortunate design trend that I've noticed various device makers embracing is the lack of a physical camera shutter button. But superthin, long phones like the Galaxy S II need a physical shutter button. Trying to hold a phone, steady it on your subject, and then tap the display without shaking it a bit is incredibly awkward. A physical shutter key solves this problem by allowing you to hold the phone, retain your steady grip, and take the picture. I don't understand why manufacturers have stopped putting them on phones–even though the cameras themselves keep getting better and better! Okay, I'm off my soapbox.
Performance
The Samsung Galaxy S II is branded as a 4G phone and Samsung sent it to us with a T-Mobile SIM card. According to Samsung, the Galaxy S II can achieve HSPA+ download speeds of 21 megabits per second and HSUPA upload speeds of 5.76 mbps.
We don't get very good T-Mobile HSPA+ connections at PCWorld's office in San Francisco. In fact, I couldn't get the Galaxy S II to connect to the HSPA+ network here at all; instead, it kept me on EDGE. I'm going to try testing the Galaxy S II in a few other locations, and then I'll update this review with the speed test results.
We take all such speeds with a grain of salt, however. In our five-city 4G head-to-head testing, T-Mobile's phones achieved respectable, 4G-like speeds. The Galaxy S 4G averaged 3.38 mbps for downloads and 1.13 mbps for uploads. Though it couldn't hold a candle to the blazing speeds we saw on Verizon's LTE network (18.30 mbps and 7.39 mbps), it did outperform both AT&T's HSPA+ network and Sprint's WiMax network.
As I mentioned previously, the Galaxy S II is powered by a dual-core processor, and the dual-core power was apparent in just about every aspect of the phone's performance. Scrolling was fluid in apps and Web pages, video played back smoothly, and I zipped speedily through the phone's menus.
Call quality over T-Mobile was just average. My friends on the other end of the line sounded clear enough, but I noticed a little distortion in a few of my calls.
Bottom Line
If you're in the market for a new phone this spring, you're going to have some tough decisions to make. A lot of hot phones have arrived or will debit soon, including the HTC Thunderbolt, the T-Mobile G2X, the Motorola Atrix 4G, and the upcoming HTC Sensation and HTC EVO 3D. But when it comes to performance and display quality, the Galaxy S II is pretty much unbeatable.
The decision-making process really comes down to variations in the Android overlays. TouchWiz 4.0 adds some cool features and functions to the platform, but I feel that it sometimes takes away from the Android experience. There's also a lot of preloaded content from Samsung on the phone. If you're into the pure, straightforward Android experience, I would recommend the T-Mobile G2X instead. Like the Galaxy S II, it's a 4G dual-core phone, but it runs plain Android 2.2 (which I hope will soon be upgraded to Android 2.3).