At a Glance
Expert's Rating
Pros
Exceptional multimedia capabilities
Nice, big screen for easy typing
Cons
Photos sometimes have a red tint
Text and images are jagged
Our Verdict
The Samsung Infuse 4G is a great phone for the media-hungry consumer, but a few issues keep it from being great.
The Samsung Infuse 4G ($200 on AT&T after a new 2-year contract) is a great-looking phone with exceptional media capabilities. Unfortunately, while it may shine at playing movies and music, images and text come out looking like a mess.
Polished Look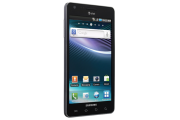 The Infuse has a minimalistic design that is sure to turn a few heads. At 5.20 inches by 2.80 inches by 0.35 inches, the phone is incredibly thin. The volume rocker and the power button are, respectively, on the left and right spines, and an 8-megapixel camera (with flash) is on the rear. The Infuse features a 4.5-inch display that takes advantage of Samsung's new Super AMOLED Plus technology. While high-definition movies looked great on the phone, images and text were badly pixilated. I tried viewing several Web pages and high-resolution images on the Infuse, and none of them came out looking very good. Text wasn't unreadable, but it can hurt your eyes after a while due to its jaggedness.
The front face of the device also features a 1.3-megapixel camera for video chatting and the usual Android soft keys (Menu, Home, Back, and Search). The Infuse also has a 3.5mm headphone jack at the top, and the micro-USB charging port at the bottom doubles as an HDMI-out (more on that later).
TouchWiz 4.0
The Infuse runs the latest version of Samsung's TouchWiz, which adds more handy features to this already-useful overlay. Pinching anywhere on the screen gives you a birds-eye view of all your home screens and lets you rearrange them however you wish. Doing the same in your app drawer allows you to easily view all of your applications and quickly navigate to the one you are looking for.
This new version of TouchWiz also tweaks your Contacts List to make it easier to quickly call or text someone. Swiping left on a contact will take you to the Messaging app, while swiping right will initiate a call to that contact. This is a great feature for people who want to quickly get in touch with others without slogging through countless menus to do it.
Other than TouchWiz and a handful of AT&T applications, the Infuse is relatively free of preloaded software. This was a breath of fresh air, as most mobile carriers seem to like to stuff their Android phones with as many extra apps as they possibly can. The Infuse will also be the first AT&T Android phone that will let you side-load applications. Now users can download apps from the Web and install them on their phone, whether those apps are in the official Android Market or not.
Performance
The Samsung Infuse runs Android 2.2 (Froyo), but is due to get version 2.3 (Gingerbread) later this year. The phone has a 1.2GHz single-core processor, which was able to handle most of the tasks I threw at it. The only time I saw any noticeable slowdown was when I was downloading and installing several dozen apps at once.
Samsung's decision to go with a single-core processor instead of a dual-core may have been due to concerns over battery running time. Other 4G dual-core phones that we have seen have had extremely underwhelming battery life. After 5 hours of heavy usage, I managed to get the battery down to only 23 percent on a single charge. You may still want to bring a spare charger with you in your travels, but at least you won't drain your phone as fast as you would with the Samsung Charge or the T-Mobile G2x.
The Infuse takes advantage of AT&T's HSPA+ network for 4G speeds. While not the fastest 4G network around, it did pretty well for day-to-day tasks. Websites like Yahoo or Yelp opened in seconds, and apps downloaded in a speedy manner, even though we do not have the best AT&T coverage here in San Francisco.
Call quality was okay, though voices were a little quiet. Turning up the in-call volume remedied the issue, but I ended up noticing a faint background hiss in the calls I made. The hissing wasn't so bad that it took away from the quality of the call, and you will probably get used to it after a while.
Finally, the great thing about the Infuse's large screen is that typing on its touchscreen keyboard is incredibly easy–even for people with thicker fingers. While still not as good as a physical QWERTY keyboard, I was able to easily pound out a several text messages and an e-mail with few to no errors.
A Media Master
The 8-megapixel camera on the Infuse won't be replacing your stand-alone digital camera anytime soon. The Infuse's camera has a few neat options (like the ability to take panoramic pictures), but images are fuzzy and can have a reddish tint to them at times. The front-facing camera does not have the same issues, though pictures taken with it will look washed out and grayish. Videos recorded on the device fare better and lack the redness found in the still images.
The Infuse makes a great portable media player, and even comes with an HDMI adapter and a pair of decent earbuds (as mentioned above, you can use the micro-USB charging port on the bottom for HDMI). Its 4.5-inch screen is perfect for watching movies on the go, and the external speaker can get pretty loud at higher volumes. The Media Hub app lets you rent or download movies to your device, and the Infuse comes with a $25 voucher for use in the store.
And don't worry too much about space: The Infuse has 16GB of internal memory and comes with a 2GB microSD card (and you can get a larger one if you need it).
Conclusion
The Samsung Infuse is a great device for media consumption, provided you can get over the text- and image-rendering issues. Reading pixilated text on that otherwise gorgeous 4.5-inch display is just a tad heartbreaking, to say the least. But if you are someone who is likes to watch movies on the go, then this is the phone for you.