When rumors began circulating that Facebook was eyeing Skype for potential purchase, more than a few observers began to get nervous.
Now that Microsoft has bought the VoIP leader, the shock in many circles is palpable. Widely viewed as primarily a defensive move, the acquisition has many wondering how Microsoft will integrate the service with offerings of its own–most notably Windows Live Messenger–not to mention how it will affect the 170 million or so Skype users around the globe.
Microsoft, of course, portrays the deal as purely an enhancement of what's offered on both sides.
"Skype will support Microsoft devices like Xbox and Kinect, Windows Phone and a wide array of Windows devices, and Microsoft will connect Skype users with Lync, Outlook, Xbox Live and other communities," it wrote in its press release on the topic, for example.
Not only that, but "Microsoft will continue to invest in and support Skype clients on non-Microsoft platforms," the company asserted. Currently, there are Skype apps for Linux, Windows and Mac OS X along with Android, Blackberry, iOS and Symbian devices.
Shades of Oracle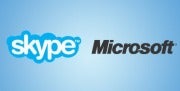 Given Microsoft's track record, however, I find it very difficult to believe that it will invest any resources at all in maintaining Skype for competing platforms in the long run, particularly Linux and Android. After all, the company has a long history of proclaiming its "love" for open source products while simultaneously doing all it can to scare users away from them.
The situation is remarkably parallel, in fact, to Oracle's acquisition of Sun last year–to the ultimate detriment of many of Sun's open source assets, including OpenSolaris and OpenOffice.org.
Neither Oracle nor Microsoft, it seems safe to say, places any value on open source offerings, or on keeping their own products compatible with them.
Skype Alternatives
So while Microsoft may keep Skype alive on other platforms for the time being, it's pretty unlikely that such support will continue over time. The good news is, there are alternatives, and they'll surely receive a boost from this new deal. Here are just a few contenders.
As I noted earlier this year, a new effort was recently launched by the GNU Project to create an open source Skype alternative. Called GNU Free Call, the new initiative aims to offer a service that's secure and usable on all platforms. It will also be available "without requiring a central service provider to register with, without using insecure source secret binary protocols that may have back-doors, and without having network control points of any kind that can be exploited or abused by external parties," its creators say.
2. Exiga
Ekiga–formerly known as GnomeMeeting–is a free and open source application that offers VoIP and video conferencing for GNOME and Windows. It supports HD sound quality and video up to DVD size and quality, and it supports both the Session Initiation Protocol (SIP) and H.323 protocols, making it interoperable with many other standards-compliant software packages, hardware devices and service providers.
3. Empathy
Currently bundled in Ubuntu Linux, Empathy is a free messaging program that supports text, voice and video chat and file transfers over many different protocols.
4. Blink
Available for Linux, Mac and Windows, Blink is a free and easy-to-use SIP client that offers VoIP, instant messaging, conferencing, file transfer and desktop sharing.
5. Linphone
Linphone is a VoIP application for Linux, Windows, Mac OS X, Android and iPhone. It also uses SIP and is licensed under the GNU General Public License.
There are many other Skype alternatives, of course–including also Jajah, which looks like a compelling (though not open) alternative. So, when Skype converts to a Microsoft-only service, as I believe it ultimately will, users of other platforms will have plenty of options to choose from.