The instant-on feature of tablets and smartphones is one reason why people love them. Laptop users could definitely benefit from faster boot up as well, since every second counts these days.
Lenovo has engineered its newly introduced ThinkPad T420s to boot in 10 seconds or less, thanks to BIOS and hardware optimizations coupled with solid state storage. The RapidBoot Extreme technology is part of Lenovo's Enhanced Experience (EE) 2.0 program. Other features include reduced time for shutting down or resuming the laptop as well as speedier application launch times.
Lenovo says its RapidBoot Extreme is the company's fastest hardware configuration available. Besides booting in under 10 seconds, you'll also see applications open up two times faster than normal. This is thanks in large part to the speed advantages of solid state drives.
A video on Lenovo's website showcasing the technology (and starring race car driver Danica Patrick) reveals some of the start up optimizations, like bypassing a logo boot screen. The ThinkPad T420s even beat out the MacBook Air, known for its fast start and wake times.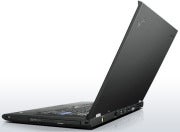 Fast start times are also promised in other Lenovo laptops that have EE 2.0 but not the solid state drive. Those PCs will start up on average in 20 seconds and shut downs will be 28 percent faster than a typical Windows 7 PC. Resuming Windows, even without an SSD, will take less than a second (36 percent faster than average).
The ThinkPad T420s also boasts a 14-inch HD+ (1600-pixel by 900-pixel) display and a slim, lightweight profile: it clocks in at 3.94 pounds and is 0.83 inches thin. Other features include a second-generation Intel Core i3 or i5 processor, a DVD recordable drive, 250GB HHD, and up to 8GB of memory. The T420s is available for customizing and ordering now, with prices starting at $1,630.
Look for RapidBoot in future Lenovo laptops, including an IdeaPad Y570 laptop expected in June.
Follow Melanie Pinola (@melaniepinola) and Today@PCWorld on Twitter