In a stunning example of the left hand of government not knowing what the right hand is doing, a representative from the U.S. Department of Justice reminded a Senate subcommittee today that his agency wants to require wireless carriers to keep records of users' location and web sites they access on their smartphones.
"When this information is not stored, it may be impossible for law enforcement to collect essential evidence," Deputy Assistant Attorney General Jason Weinstein told the Senate Judiciary Subcommittee on Privacy, Technology and the Law.
Sen. Al Franken, D-Minn., isn't buying any of it. Franken called the hearing, he said, to discuss the right of mobile users to know "who has their information and what they're doing with it."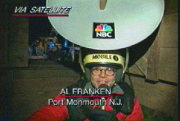 Franken fans from the Jurassic Era of NBC's Saturday Night Live remember him with a satellite dish strapped to his head. Despite his early embrace of location-based technology, Franken showed he's no fan of tracking features.
FCC's Point of View
At the same hearing, a representative of the Federal Trade Commission said the FTC believes wireless carriers and device manufacturers should track only the data needed to provide a service or complete a transaction.
The DoJ told Congress in January that ISPs and wireless providers should have to store user data for two years.
"In many cases, these records are the only available evidence that allows us to investigate who committed crimes on the Internet. They may be the only way to learn, for example, that a certain Internet address was used by a particular human being to engage in or facilitate a criminal offense," Weinstein told Congress in April at a hearing on mandatory data retention.
In his opening statement to Bud Tribble, Apple's VP of software technology, Franken asked why Apple's official response to the location tracking flap was to describe all the cool things location tracking did, while CEO Steve Jobs was saying that location tracking did not exist.
[Read: Who Else Is Tracking Your Location?]
Watch Franken speak at today's hearing (Warning: the video is 9 minutes long).
[Read: Google, Apple Sending Mixed Signals on Tracking ]
"Mr. Tribble, it does not appear to me that both these statements could be true at the same time," Franken said. "Does this data indicate anything about your location or doesn't it?"