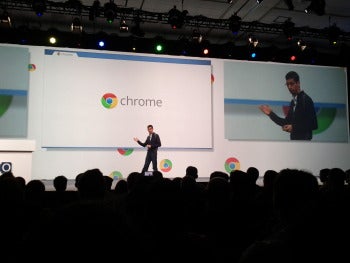 The spotlight on Day Two of the Google I/O developer event here in San Francisco was firmly on the company's Chrome OS. After six months in which only a prototype was available, laptops running Google's Chrome operating system will finally come to market for consumers, businesses and education.
Two Chrome laptops, one made by Asus and one by Samsung, will be sold by Best Buy and Amazon in the US starting June 15. And Google announced inexpensive lease deals that will give businesses laptops and other infrastructure, support and end-of-life hardware replacements for just $28 per user per month.
The keynote was every bit as news-heavy and action-packed as the first day keynote: Google also unveiled some Chrome OS upgrades that give users more control over locally stored files, along with announcing several key HTML5-related updates to its Chrome browser. But the announcement that got some of the biggest cheers was this one: Angry Birds will become available as a desktop app in the Chrome Web Store!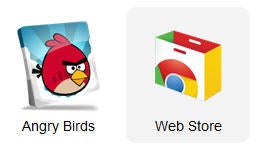 The huge hall here at the Moscone Center was nearly full, with around 4,000 developers, media people and others.
Chrome Laptops for Consumers
The Samsung Chrome OS laptop will have a 12.1 inch display, "all-day" battery usage, Wi-Fi and an option for Verizon 3G service. The Wi-Fi only version will cost $429, while the 3G version will go for $499. The Acer Chrome Book will have an 11.6-inch screen and Wi-Fi, and will sell for "$349 and up."
Google's slogan for the Chromebooks is "Chromebook: Nothing but the web." The argument behind it is this: The Chromebook is almost completely an internet device. If you can do your work and access your content on the web, you don't need the virus updates, slow local services, and endless startup process that can plague a conventional PC.
But Google clearly knows that asking users to give up the security of a local hard drive and conventional desktop software is a hard sell. So it tried to make businesses a particularly compelling offer.
In Video: Google Announces Chromebooks
Google wants businesses to use the new Chromebooks to quickly and inexpensively update their laptops to run a modern OS. Google says half of all company-owned PCs in America still run Windows XP.
To make the Chromebooks fit in better in the office, Google is working on a "Chrome Box", a flat square box that connects Chromebooks to large monitors and company file systems.
And here's the kicker: Google says it is offering businesses the Chromebooks, the Chrome Box, full support, full warrantee service and automatic end-of-life equipment replacement at a price of $28 per month per user. (I think I heard a couple gasps around me when this was announced.)
In short, Google is seriously upping the ante in its challenge to Microsoft in the workplace. It's already making inroads with its Google Docs cloud-based productivity apps, but now it has dramatically sweetened its offer to provide the OS and even the hardware, too. At this price, Google's offer could be a very attractive to many businesses.
A similar offer is being extended to education, but the price per month per user for schools is only $20.
Improvements to OS
The biggest problem with the Chrome OS to date is that it's been so completely about the web that you really miss being able to do things like download and install apps or play music or video content on the local hard drive. You just couldn't do that in the first iteration of Chrome OS.
Knowing this Google appears to have made some real-world concessions in response to the problem. It has added a file manager, where you can store music and video files you've downloaded. There's also a new media player in the OS that you can use to play the content. This alone makes me want to give Chrome OS another chance.
Google says the OS will stream content from Hulu and Netflix and the new media manager will plug into the new Google Music Beta and Google Movies services. The OS handles photos better now too. Users can now plug in a camera to the Chromebook, move photos from the camera, then store them in the cloud.
Chrome Browser Improvements
The day wasn't all about the Chromebook. Google announced today several cool new HTML5 tricks for its Chrome browser. Google has been a strong proponent of HTML5, which it says developers can use to develop one version of a Website or service that will have advanced capabilities, and most importantly, work on "all modern browsers."
Google has built some impressive APIs for the Chrome browser that will help developers create cool web pages faster. For instance, developers can use a Google API to build voice recognition into their apps. Google says it has also improved the hardware acceleration of its browser, which revs up the graphics card in the PC to render highly dense, colorful animated graphics.
Chrome Web Store

Google also made several announcements about its Web App Store, where Chrome users can grab apps to run in the Chrome browser. Google says that people spend twice as much time in Chrome apps compared with apps on other platforms, and make two and a half times more purchases within the apps.
When the guy who made Angry Birds took the stage here it was clear that the popular game had come to the desktop as a Chrome App. Huge applause. Developers, it appears, love Angry Birds too. (It occurred to me that employers everywhere should mourn the time and productivity that just went out the window with the announcement of a desktop-based game as addictive as Angry Birds.)
The only thing developers love more: Keeping as much money as possible from the sale of their apps. Google got uproarious applause with the announcement that it will take only a 5 percent flat commission on each app sold by a developer at the Web Store. Apple, by contrast, takes a 30 percent commission on app sales.
Finally, Google announced today that everybody in the room will be getting a Chromebook, so I will give it a thorough run-through and let you know if the "Web book" is finally, really, ready for prime time.Also of Interest:
Will the Google Chromebook Replace Your Laptop?
Google Partners with Acer and Samsung on Chromebooks and Laptop Rentals