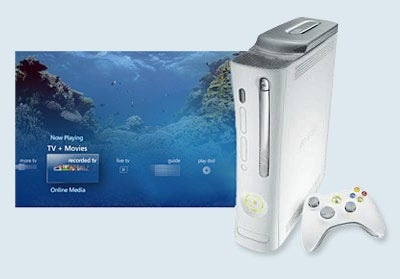 I've got a pretty cherry Windows Media Center setup in my living room: slimline HP system that fits neatly in the entertainment center, Ceton InfiniTV 4 CableCard tuner, and some decent speakers. I've been a mostly happy camper with it. (I'll explain the "mostly" part in a future post.) If only I could access all this media goodness from one of the other TVs in my house.
I can, thanks to one of WMC's most often overlooked features: extenders. Back in the day, a number of third-party products (remember the D-Link MediaLounge and Linksys DMA2200?) vied for the title of ultimate extender, but in many cases they were overpriced and underwhelming. Today, there's really only one extender left–but it's pretty awesome.
I'm talking, of course, about the Xbox 360. Microsoft's mega-popular game console doubles as a Windows Media Center extender, allowing you to watch live and recorded shows, movies, photos, and the like on another TV in another room. There's no special software to install, just a quick, one-time setup procedure to link Xbox and media center. (This requires a home network, natch. Wi-Fi will work, especially if it's the 802.11n variety, but Ethernet is better.) And WMC supports up to five extenders, so you can share the love all over the house.
I recently replaced an ancient 360 with one of the new Xbox Slim models. The latter is not only more compact, but also much, much quieter, making it an even better choice for extender duty. As an added bonus, you can rent or purchase movies and TV shows, something you actually can't do with Windows Media Center itself. (Alas, there's no way to stream content in the other direction; if you rent a show on your Xbox, you can't view it on your media center PC.)
I hate to sound like I'm shilling for Microsoft, but the bottom line is that if you want to access your media center from another TV, you need an Xbox 360. And the new models (which have built-in 802.11n Wi-Fi) are especially good for that purpose. Oh, I hear they're not bad for games, either.