Google made an interesting hardware-as-a-service proposition to businesses Wednesday with the introduction of the Chromebook. The Web-centric and laptop-like device will launch next month with support from vendor partners Samsung and Acer.
The Internet giant will offer businesses a $28 dollar per month "subscription" for a Chromebook. But given the low cost of the devices themselves, does that make sense?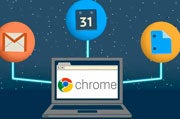 Putting aside the value-add portions of the Chromebook offer (we'll look at them a bit later), let's take a look at sheer price consideration. It's not immediately clear if Google will offer a choice of the Chromebook devices announced today on its Chromebooks for Business rental program, or if it will standardize on one of the three products announced.
Let's presume, for the sake of argument,that users will get a choice.
Google announced Samsung Chromebooks at $429 and $499 price points, or 15.3 months of rental and 17.8 months of rental respectively, as well as Acer Chromebooks at $349 (12.5 months of rental) and up.
The product itself won't be in torture-tested in the wild until after its June 15 launch, so it's hard to know the expected lifetime of the devices. Because these will be simplified "notebooks," with a radically simplified operating system that will exist only to provide a conduit to the cloud, one would hope the lifetime expectancy of a Chromebook would be at least two years. And that's probably very much on the short side.
Based on those outlined assumptions, in a scenario where acquisition cost is the only concern, it would seem hard to envision a situation in which it's more attractive to rent rather than buy a device that comes in at less than $25.
Of course, scenarios where acquisition cost alone is the only concern are purely theoretical in the business world, where the cost of the device is often a small minority of the overall cost of owning the device over time.
Here, there's potential for the rented Chromebook to shine. Google pledges that businesses renting Chromebooks will get a number of benefits–including technical support, warranty, automated updates, and perhaps most compellingly, a centralized laptop management console for IT managers.
In Video: Google Chromebooks to Arrive in June
The pitch here is simplicity: One $28-per-month bill for each user you equip, and theoretically lesser support requirements than with traditional notebooks. Hardware failure? You're covered. Software failure? With the device acting simply as a conduit to Google's cloud-based software, it shouldn't happen. The biggest IT headache is what happens if the cloud goes down. But of course, that could never happen.
There are a few major caveats to consider. If you're not drinking the Google Kool-Aid now, you're going to have to get to like the flavor. If you have needs for software functionality beyond those which you can find in the cloud, you're out of luck.
And then there's the issue of productivity when you're not in range of the network. Sure, you can get a Chromebook with built-in 3G and use that when you're out and about town. But need to work on that spreadsheet (or listen to your music, or do most anything else) on that five-hour, cross-country flight? Not on your Chromebook–at least not initially. Google did promise offline support for Gmail, Google Calendar and Google Docs by this summer.
As it exists today, a rented Chromebook for business probably only makes sense as a secondary device, or for users with a very limited set of requirements.
Where Google's rental pitch is strongest is in its package for the education vertical. The $20 per-month per student makes it much more feasible for a school to equip every student with a device. Its locked-down, cloud-only nature should significantly ease the "I just installed this new program and now my computer doesn't work" headaches of school IT admins.
Robert Dutt is a veteran IT journalist and blogger. He covers the Canadian IT technology solution provider scene daily at ChannelBuzz.ca . You can also find him on Twitter .