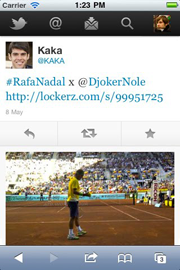 Twitter has refreshed its mobile website to look more like its iPhone client, with a twist: it's upside down. Touchscreen smartphone users going to twitter.com will soon be able to access the new Web app, which resembles the official Twitter iOS client, but features the menu icons at the top instead of at the bottom of the screen.
Twitter says the new mobile Web interface is built from the ground up in HTML5 and that it should work with most modern smartphones. The Twitter Web app is not just a scaled-down client: it includes access to your timeline, mentions, direct messages (including conversation view), trending topics, lists and search. It also displays some inline media like images, but you can't upload photos yet.
The new mobile twitter.com is not available just yet for everyone. The company says that only a small percentage of iPhone, iPod touch and Android users will be able to access it. Twitter plans to rolls out the new mobile version to other devices "in the coming weeks." You can check whether you already have access to the new Web app by pointing your mobile browser to twitter.com. If the new version is not enabled, you will still be able to access the old mobile site.
There isn't a shortage of Twitter clients for mobile devices, so it's unclear whom the new Web app is targeting. There are plenty of good Twitter clients on iOS and Android, besides the official clients on the platform, so it will be interesting to see how many people will adopt the improved Web version.
Facebook also made improvements to its mobile site a few weeks back, making the experience more seamless across devices. The difference seems to be that Facebook is using its mobile Web feed to pull the news for its iPhone apps.
Follow Daniel Ionescu and Today @ PCWorld on Twitter