Earlier this week, my PCWorld colleague Tony Bradley brought you the news that tablets purchasers are abandoning their laptops in favor of their new devices, according to a study from Nielsen.
Well, that may or may not be true, according to where you like to get your studies. A new study of iPad owners from the NPD Group says the rate at which tablets are cannibalizing notebook or netbook sales is declining.
NPD's research into the usage habits of iPad owners comes up with the revelation that only 14 percent of early iPad owners have dropped their personal computer in favor of the new gadget. And that number is dropping, with just 12 percent of users who bought their tablet after the holiday season kicking their PC to the curb.
NPD makes the argument that while PC sales are down, the biggest spot for computers is in the sub-$500 laptop field that stands to lose the most to tablets. Such machines grew by 21 percent over the last quarter of 2010 and the first quarter of this year. Meanwhile, sales of Windows consumer notebooks over $500 dropped by 25 percent.
So, while NPD agrees that laptop sales are down, it suggests you shouldn't point the finger at the iPad. Instead, the research firms suggest that PC sales simply aren't succeeding in keeping pace with the halcyon days of computer refresh caused by the launch of Windows 7 and the emergence of the netbook as a powerful new category–two big factors that led to computer sales going through the roof.
In fact, the researcher says that 75 percent of those who purchased a tablet did not plan to buy any new technology over that timeframe, suggesting that "iPad sales added billions of dollars to the industry's coffers after years of [average selling price] declines draining the market." It's hard to argue that the iPad probably does carry better margins than does the netbook–it is from Apple, after all.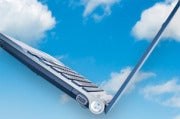 Other notes from the NPD study:
The vast majority of iPad buyers–83 percent– bought at least one accessory with their device, with cases the most popular. So clearly the iPad is following the trend set out by the iPod and the iPhone in terms of creating a broad economy for accessory-makers.
Consumers are largely just fine with Wi-Fi-only devices, and don't really care for the additional expense of a 3G-enabled iPad.
And in light of that previous bullet, this one shouldn't be a surprise: The base model, the $499 16 GB WiFi-only iPad, is by far the most popular model, accounting for almost one third of all iPad sales.
If you're confused by these dueling findings of studies, don't worry–so are the research firms conducting them. Just days after releasing the aforementioned study of iPad owners, NPD has released the findings of a similar study of Canadian tablet owners, arguing that "unlike its smartphone predecessor, the oft-gifted tablet seems to be less of a complementary device and more of a replacement device."
"In fact, 65 percent of those who are planning to buy a tablet say that other devices will no longer be required," the research firm wrote. They go on to note that e-book readers and smartphones are more frequently being ditched in favor of the tablet–but still, it's a dramatic contrast from the U.S. study.
Perhaps Canadians' buying and usage habits really are that different. Or perhaps Mark Twain had it right all along.
Robert Dutt is a veteran IT journalist and blogger. He covers the Canadian IT technology solution provider scene daily at ChannelBuzz.ca. You can also find him on Twitter.