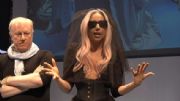 What do FarmVille and Lady Gaga have in common? Nothing that I can see. But that hasn't stopped the monster social game and the monster pop star from joining promotional forces in a way that makes it clear the formerly edgy singer-songwriter has traded her meat dress for a pair of virtual overalls.
In yet another tech cross promotion, Lady Gaga will release a single from "Born This Way" exclusively to gamers who complete a task in the "GagaVille" section of FarmVille between May 17 and May 19. Non-exclusive song tracks will be available via the game platform between May 20 and May 26.
I know what you're asking: What awesome cross-merchandising opportunities will evolve from this synergistic promotional partnership? (I know what you're really asking: "WTF?" It's marketing speak.)
According to Zynga, the promotion pulls in some of the heftiest corporate names out there to connect in a leather and glitter way with Zynga's 250 million casual gamers.
• Gaga will announce "codes that unlock exclusive Lady Gaga-inspired limited edition virtual items" for Zynga games from Mafia Wars to PetVille, via 148 Clear Channel radio stations
• Best Buy will sell $25 Zynga game cards that include the full "Born This Way" album plus bonus tracks
• Gameplay in FarmVille will unlock Clear Channel's I Heart Radio app
All this plus an official Lady Gaga Farmville unicorn, which the guys at ThinkGeek know better than to call "the other white meat."