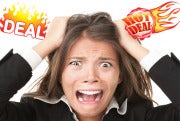 Only a year after Groupon rocketed out of nowhere to become the Internet's hot new thing–spawning hundreds of copycats–the hottest, newest thing is Groupon fatigue.
People who complain about too many daily deals predict that Groupon and its imitators may become the next Napster: enormous one day, and gone the next.
The deluge of deal sites is staggering. Deal aggregator Yipit tracks a zillion daily deals from 482 sites covering 32 metro areas. In New York and other major regions, more than 100 deals hit the street every day, says Jim Moran, Yipit's cofounder.
And the big players recently jumped into the fray: Both Facebook and Google announced their deals plans in April.
Too Much?
Is it all too much? Monthly metrics from Yipit indicate that Groupon sales fell roughly a third from January to February, and another third from February to March.
Why? Some people point to Groupon's tacky Super Bowl ads (watch one below). Others disparage the site's uniquely annoying "Groupon voice," in which ad writers layer wordplay on top of absurdity to peddle half-off haircuts and burgers. (Instead of "Groupon fatigue," they would probably call it "Groupennui.") Moran says that Groupon's market share was bound to fall as competitors rushed in.
Groupon's Unsuccessful Super Bowl Commercial
But here's my personal belief: Groupon fatigue triggers when shoppers like me realize that they've spent money on a bunch of deals they didn't use.
After reading Sarah Jacobsson Purewal's estimate that 20 to 40 percent of discount-coupon purchasers never redeem them, I went out to the garage and found five defunct deal vouchers under the driver's seat of my Subaru.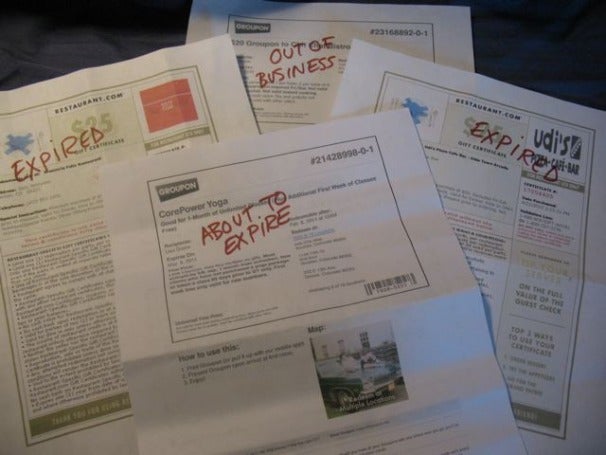 They included:
A $25 Restaurant.com voucher for a place that was closed when we tried to eat there. Who closes on Tuesdays?
Another $25 Restaurant.com certificate, one of two for a pizza place. After the first visit, we decided that $50 was too expensive for pizza, and never went back.
A $20 Groupon for lunch at a place down the street from a friend's office. We were still trying to get on each other's calendars when the thing expired.
A Groupon for a local bistro that I think either failed or "disapparated," Harry Potter-style, because my daughter and I drove all over the neighborhood and could find no trace of it.
A Groupon for 30 days of unlimited yoga classes at a variety of inconvenient locations. Unlimited yoga? Who am I kidding?
Altogether, I spent $149 for those five pieces of paper–a Benjamin and a half. That's way more than the $45 I saved with the three deals I did use.
Nitty-Gritty Details
A little digging showed that I might not be as stupid as I thought. According to Groupon, merchants should honor your certificate for the amount you paid for it (not the total deal value) for five years beyond its expiration date. In some states, gift-certificate laws keep daily-deal offers from expiring (but according to the National Conference of State Legislatures, not mine). And it turns out that Groupon will reimburse you if a business fails before you use your coupon, so I may be able to recover that particular $15.
Has the social-coupon concept jumped the shark? Google doesn't think so: It's launching Google Offers in the wake of its failed $6 billion bid to buy Groupon, rolling the program out as a public beta. Facebook doesn't think so: It recently announced its "Groupon-killer" test in five pilot cities. Groupon itself is aiming to raise an estimated $20 billion IPO this year, according to Reuters.
Moran doesn't think daily deals are done, either. "Despite crowding of their inbox, consumers are purchasing more, not fewer, deal vouchers. Total revenue for the market continues to climb month over month," he told me. "These offers are becoming a real channel through which consumers can regularly participate in activities they couldn't otherwise afford. From spas to golf to skydiving, consumers are using these offers to plan their weekends and vacations, and ultimately living better lives."
Businesses that have used daily-deal promotions report mixed results. In a Rice University study of Groupon deals, more than 40 percent of merchants said "Never again." Even businesses that made money on their deal said that Groupon customers rarely bought more than face value. And the money-losers have complained bitterly that Groupon shoppers are terrible human beings–demanding, uninformed, unfriendly, and cheap.
Sage Advice
How do you make sure that your daily-deal adventure saves you money?
Learn from my overpriced-pizza experience and don't buy more than one of anything you haven't tried. And cut down on mailbox overload by signing up for an aggregator such as Yipit, Pricegrabber, Monster Offers, or Shoparatti.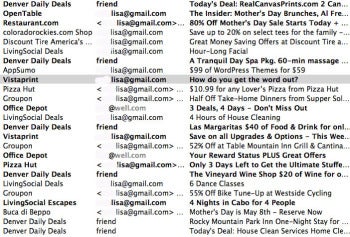 "Be proactive, not reactive," Yipit's Moran advises. "Instead of reacting to each offer as it comes your way, decide what you'd like to do, and, odds are, you'll be able to make that happen for a fraction of the price."
Don't abuse the merchants by photocopying certificates or trying to redeem more than one offer at a time. Most daily-deal advertisers are small businesses trying to get new customers–not to give away the store. Karma is a real thing.
Plan to use your discount soon after you buy it, for two reasons: First, you should use it when it's still top of mind. Second, a lot of people wait until the last minute, so if you take too long you're fighting the crowds of your fellow procrastinators.
Finally, not to put too fine a point on it: Don't store your Groupons under the driver's seat of your car.