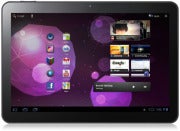 Samsung will unveil a 10.1-inch tablet display next week with 2560-by-1600 resolution that draws 40 percent less power than older RGB stripe LCD screens. The new PenTile WQXGA display has double the resolution found in the forthcoming Samsung Galaxy Tab 10.1 and has more than five times as many total pixels as the iPad's 1024-by-768 display.
Samsung and Nouvoyance (the company behind PenTile technology) will show the new display during the SID Display Week 2011 International Symposium in Los Angeles from May 17-19.
Samsung says tablet manufacturers will have access to the new display later this year. The company is not saying whether any tablet makers have already signed up to use the new display, or if Samsung plans to use it in the next version of its Samsung Galaxy Tab devices.
Ready for iPad 3?
Many critics and online pundits are wondering whether the new tablet display is destined for the next iteration of Apple's iPad. Apple introduced a higher resolution screen with the iPhone 4, and most Apple watchers expect the company to follow suit with the next iPad.
Earlier in the year, there were rumors that iPad 3 might have a 2048-by-1536 display — double the resolution of the iPad and iPad 2.
LG's AH-IPS
But Samsung won't be the only company showing off new displays during SID. LG, the current major supplier of iPad displays, plans to show off a new line of advanced high performance in-plane switching (AH-IPS) displays, including an iPad-sized 9.7-inch panel.
LG doesn't specify what the resolution of its new displays will be other than to say they are 1.5 to 2 times the resolution of typical LCD panels. LG also says the AH-IPS displays have "a greater number of pixels than the PPI that can be recognized by the human eye at a typical distance." Apple CEO Steve Jobs said the same thing when he first introduced the iPhone 4's retina display last June.
LG also says its new displays will have lower power consumption and will be an "ideal" display to use outdoors, something you cannot say for the current iPad crop.
Connect with Ian Paul (@ianpaul) and Today@PCWorld on Twitter for the latest tech news and analysis.