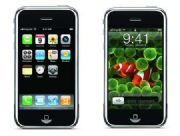 More bling is expected from the next iteration of Apple's popular iPhone, but not the type that will stir a revolution.
That's the assessment in a recent research note by industry analyst Peter Misek of Jefferies & Co. that was picked up by several news organizations.
The proof is in the name. Misek said the name of the handset is expected to be the iPhone 4S, instead of iPhone 5.
Some of the incremental improvements, according to Misek, include Sprint and T-Mobile selling the device, better cameras from Sony and HSPA+ support. He expects Apple to put the A5 chip from the iPad 2 tablet into the new iPhone, giving it dual-core processing power.
The research note doesn't mention anything about NFC capabilities in the new iPhone, which were widely speculated earlier this year. Such short-range wireless connectivity allows data and images to easily be transmitted between two devices such as a cell phone and a computer by touching one to the other.
At least more carriers are set to have the new iPhone this year. That would mean Sprint and T-Mobile in the U.S. joining AT&T and Verizon. A look inside the Verizon iPhone revealed its radio chip could handle radio frequencies from all top four U.S. carriers.
But if you were keeping your hopes up for a 4G LTE iPhone though, Misek said Apple is not happy enough with the technology to include it in the new model expected in the next few months. Instead, it will feature HSPA+, which is what AT&T calls 4G. This could be explained by recent reviews of 4G Android phones, where abysmal battery life was noted–a trade-off Apple probably wants to avoid.
Follow Daniel Ionescu and Today @ PCWorld on Twitter