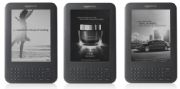 Ads may be one way for Amazon to keep Apple from siphoning away its customers.
Amazon says the $114 ad-supported version of the Kindle e-reader is riding high as its best-selling item in electronics.
With the Amazon tablet expected to launch sometime in 2011, Amazon could use lower prices to reel in customers loathe to spending money on the more expensive iPad tablet. Having the devices carry ads could help the company turn a buck while selling its devices cheaper.
Considering how many of your applications run wild with ads, a cut-rate Amazon tablet with discreet advertisements could be a boon for consumers who want a tablet on the cheap.
The Kindle has been a success since its 2007 release. Although Amazon has never disclosed specific sales numbers, analysts believe 8 million Kindles were sold in 2010. But it has faced intense new competition for people wanting to read books electronically since Apple released its sleek and easy-to-navigate iPad, which costs $499 for a Wi-Fi-only version.
Amazon's "Special Offers" Wi-Fi-only version of the Kindle, which includes homepage and screensaver advertisements, was a good idea to help it lower the price. It is $25 cheaper than the $139 Kindle.
But, Amazon could do more. Where's the free Kindle? What about using ads to make e-books — the items people are actually buying to read on the device — cheaper?
Time will tell whether Amazon sees this as an opportunity to expand the use of ads to sell its electronic devices.