A Chinese global trade site is selling an item under the listing "Newest design crystal case for apple iPhone 5g," which hints that the next generation iPhone could include some big changes.
If the design of the case, made by Kulcase, LTD in Guangdong and offered for bulk orders on alibaba.com, is actually based on leaked plans from Apple, it appears the next iPhone could have a new edge-to-edge display and a new location for the rear flash. At least, that's what we can discern by looking at these photos posted on the site: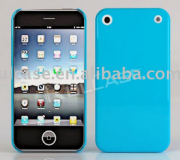 It wouldn't be the first time plans for Apple products have been leaked into an ultracompetitive Chinese manufacturing market.
Reports surfaced earlier this year that employees at Foxconn, which manufactures many Apple products in China, were arrested for leaking iPad 2 plans to accessory makers.
Lending a little bit of credence to this particular rumor is the fact that the images seem similar to an engineering mock-up leaked back in March (according to AppleInsider) that showed a bigger screen.
But third-party manufacturers have also been known to begin production based on other rumors and leaks, only to see Apple make last-minute changes.
If you're willing to take a risk and invest in some fifth-generation iPhone cases, Alibaba might be able to hook you up for as little as ten cents apiece, so long as you're willing to buy at least a thousand.