This morning (May 16), the second to last NASA Space Shuttle launch blasted off from Cape Canaveral, with the final launch, STS-135, planned for launch in early July. With the Shuttle Program ending, many people think that it's the end of NASA's manned spaceflight program. But the reality is that it's quite the opposite: Not only will manned spaceflight continue, but NASA is also receiving a budget increase. The reality is that the Space Shuttle is simply being replaced by safer and more efficient means. So what's next?
The budget
Contrary to what you may think, NASA is to receive a budget increase of some six billion dollars (although much of it may be to adjust for inflation) over the next couple years, thanks to the Obama administration. Additionally, NASA sucks up way less money than most people think it does. According to a study by The Space Review, respondents on average thought that NASA accounted for roughly 1/4 of the Federal budget.
In reality, NASA actually receives less than 1% of the entire budget. The budget increase–despite the cancellation of the Constellation Program (a failed attempt at developing a replacement to the Space Shuttle), is designed to improve the efficiency of everything that NASA does, including the manned spaceflight program.
With the signing of the Launch Services Purchase Act of 1990, under George H.W. Bush NASA is required to purchase launch services for its payloads from commercial providers when such services are needed. So what does that mean? While there are a number of factors, it means that NASA saves a significant amount of money by going with commercial services. Not only that, but should commercial spaceflight alternatives be safer than any existing NASA program, then that service should be considered instead.
Russia And NASA Deal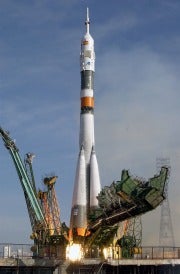 NASA recently signed a deal with Russia for $753 million to provide NASA with 12 round trips to the International Space Station at a cost of about $62.7 million per seat. This signals an 8.5% increase; however, statistically speaking, the Soyuz spacecraft is one of the safest spacecrafts ever created, and is safer than NASA's Space Shuttle. Additionally, according to the Aerospace Corporation, the CIS (Commonwealth of Independent States)/USSR has carried our more space-bound launches (manned and unmanned) than all other countries combined, at some 1300 successful launches MORE than the US's approximately <1200.
NASA is also contracting with SpaceX, founded by PayPal co-founder Elon Musk, to fly supply missions to the International Space Station on NASA's behalf, from after the Space Shuttle program ends through December 2016. This deal is worth up to $3.1 billion, depending on the number of missions flown.
However, until NASA either comes up with their own alternative or US private corporations take over, then Russia will be the main means for the US to send persons into space for some time to come.
Leading Alternatives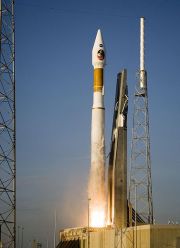 The Atlas V and the Delta IV are currently the two most probably alternatives that NASA may use to carry astronauts into space. In fact, both the Atlas and the Delta rocket families were being considered as replacements before NASA took on the Constellation Program.
Recently the United Launch Alliance (ULA) released documentation (PDF) that the Atlas V and the Delta IV could be human-rated (i.e. able to support manned spaceflight) with certain modifications. Additionally, the Atlas family already has a history of human spaceflight with the Atlas LV-3B–the same vehicle which was used to send astronauts to low Earth orbit for Project Mercury. The Atlast LV-3B logged four human space flights, and other Atlas vehicles logged a number of unmanned space flights under Project Mercury.
There are a number of companies which want to use these vehicles for human space flight including Lockheed Martin who wants to Launch the Orion Spacecraft on the Delta IV Heavy, and Bigelow Aerospace who wants to use the Atlas V to bring paying passengers to the Bigelow Space Station, currently under construction.
Given the success and history of the human-rated Atlas LV-3B, the Atlas V has a very good chance of itself being human-rated. Both launch vehicles are operated and built by the Lockheed Martin-Boeing joint venture United Launch Alliance.
Falcon 9 and Falcon Heavy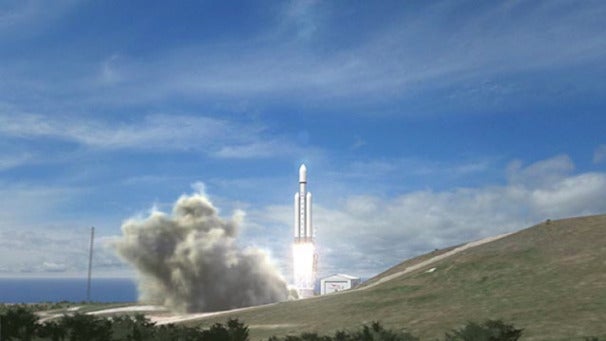 The Falcon Heavy, created by SpaceX, is apparently the most powerful rocket in the world, with a lift capacity of over 117,000 pounds–twice the payload of the next closest vehicle.
The Falcon Heavy provides a nuber of benefits including huge cost savings. According to SpaceX, the "2012 Air Force budget includes $1.74B for four launches, an average of $435M per launch. With Falcon Heavy priced at $80-125M per launch SpaceX has the potential to provide the US government significant value. In addition, the medium-lift Falcon 9 could support a number of medium-lift Air Force launches at only $50-60M per launch, if SpaceX were allowed to compete for this business."
At a quarter of the cost of current launch systems, the Falcon Heavy is surely to become extremely competitive against the Atlas and Delta rocket families which cost a large fortune.
SpaceX says that its Falcon 9 rocket could be ready for manned spaceflight in 2014; the company tells us that NASA recently awarded it a $75 million contract to upgrade the Falcon 9 to being human-rated. Not only that, but Elon Musk says that they will try to put a man on Mars by 2020.
SpaceShip Two and the White Knight Two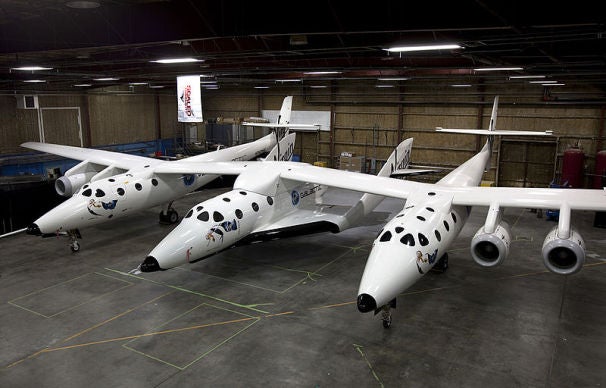 Richard Branson's Virgin Galactic plans to provide spaceflights to the paying public, using craft built by Branson and Burt Rutan's The Spaceship Company.
The Spaceship Company is currently bringing two vehicles, the SpaceShip Two (SS2) and the White Knight Two (WK2), into commercial production. The WK2 is designed to bring the SS2 to a high altitude and then launch it. This reduces launch costs of a traditional rocket and greatly improves the safety.
Currently, a suborbital flight will cost $200,000 for tourists (start saving your pennies!). However, Virgin Galactic also plans to offer suborbital science missions, orbital satellite launches, and orbital human spaceflights. If Virgin Galactic can offer orbital missions to the ISS with comparable costs (obviously scaled up), then they very well take the lead of the space industry.
Other Alternatives
There are literally dozens of other private space companies that are trying to develop launch vehicles for both unmanned and manned flight. Some of these companies are already in the testing phases of their space vehicles.
Blue Origin, founded by Jeff Bezos, the founder of Amazon.com (yes, space flight appears to be a billionaires' hobby), is trying to create a commercial suborbital tourist service. Blue Origin is significantly ahead of the game with planned unmanned flights in 2011 and manned in 2012 at a frequency of about once per week!
Space Adventures , the only private company to have actually sent private citizens to space on orbital misisons (7 times), now plans to send man to the moon and it'll only cost you $150 million (really start saving your pennies!). Space Adventures is also working with Armadillo Aerospace, another notable company capable of manned flight.
XCOR Aerospace , a spacelfight company utilizing the spaceplane design (much like Virgin Group), builds rocket engines and plans to send man to space on suborbital missions. They also built this insane LOX/methane rocket engine!
The Future Of Space-Flight
The fact is that there are a huge number of companies, governmental and private producing human worthy space vehicles. They aren't all in the US either: You might try picking up a ride on an Ariane 5 rocket (being built for the European Space Agency), which is intentended to be human-rated.
So there will be plenty of options after the Space Shuttle. The era of manned spaceflight is not ending; instead it's taking a new course. And in cases like the Falcon Heavy, it's resulting in even larger and cooler rockets than ever before.
And for the record, the US launches a lot more rockets than the general public gives them credit for. The shuttle isn't the only program that they get that $19 billion a year for. In addition to launching rockets out of Cape Canaveral NASA has four additional launch sites around the US. NASA also funds research around the US in universities and colleges, provides scholarships, fellowships, and internships to students through both NASA main and through Space Grant. They also have to maintain their state-of-the-art facilities around the US and in some cases around the world.
The future of space flight is not coming to a halt, but is about to grow uncontrollably through privatization and government/NASA funding. I just hope that McDonald's never sets foot in Space…
[Video of Atlas V Rocket via AFBlueTube / Images: Soyuz, Atlas, Falcon Heavy, SpaceShipTwo (Myself488 on Wikipedia; CC BY-SA 3.0)]
Follow James Mulroy on Twitter and on StumbleUpon to get the latest in microbe , dinosaur , and death ray news .
Like this? You might also enjoy…
Get your GeekTech on: Twitter – Facebook – RSS | Tip us off