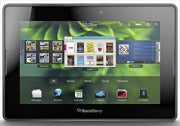 As if facing lackluster reviews for its BlackBerry PlayBook tablet debut wasn't bad enough, now Research In Motion (RIM) is being forced to recall about 1000 tablets due to software problems.
Apparently a batch of faulty PlayBooks was shipped to Staples, which, according to The Wall Street Journal, can't perform the initial setup of the tablet.
Details are very sketchy at the moment over whether the BlackBerry tablets were shipped in the U.S. or in Canada, after Engadget first reported on the recall on Saturday. However, RIM said that it is looking to replace faulty devices, as "the majority of the affected devices are still in the distribution channel and haven't reached customers."
RIM is quite cryptic on the nature of the problem with the recalled PlayBooks. A company statement at CrackBerry explains the 16GB tablets were shipped with "an OS build that may result in the devices being unable to properly load software upon initial set-up." If you are one of the unlucky who has such issues with their PlayBook, you will need to contact RIM for assistance.
The BlackBerry PlayBook is a 7-inch tablet with a 1GHz dual-core processor, 1GB of RAM, resolution cameras (3 megapixels in front, 5 megapixels in back), retailing for $499. The tablet is competing against Apple's iPad, as well as with several tablets based on Android.
But the PlayBook is not off to a good start. Reviewers took issue with half-baked software on the tablet, which despite coming from a company renowned for communication solutions, does not feature built-in email capabilities. On AT&T the feature that allows BlackBerry phones to show emails on the PlayBook is ironically blocked, and Verizon is still evaluating whether to sell the tablet.
The first day of sales for the PlayBook was also met with little consumer interest, and RIM is yet to say how many tablets it has sold. The last thing the company needed was this software-related recall.
Follow Daniel Ionescu and Today @ PCWorld on Twitter