Seagate has a new wireless external hard drive that lets you access movies and music on your iPad without worrying about the tablet's puny onboard storage.
Seagate's new GoFlex Satellite Mobile Wireless Storage is a battery-powered external hard drive featuring 500GB storage, 802.11b/g/n Wi-Fi capabilities with WPA security, and a rechargeable battery. The new mobile HD also lets you stream video and audio content to three different mobile devices at once, making long car trips with the family a little more bearable.
The GoFlex Satellite will be available in July at Best Buy for $200, but you can preorder it right now from Amazon, Best Buy, and Seagate.
The Satellite relies on Seagate's GoFlex Media iOS app to access your stored files via an iPad, iPhone, or iPod Touch. The app lets you view your content in separate folders for photos, music, video, and documents. Alternatively, you can connect directly to your external storage device via a Web browser if you have a non-iOS device such as an Android tablet or Windows Phone 7 device.
Seagate promises five hours of battery life from the GoFlex Satellite when one user is streaming content and up to 25 hours standby time. But you don't have to worry about losing juice during a trip as the device also comes with car and wall chargers.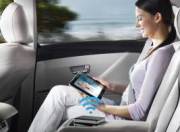 Seagate's GoFlex Satellite works with Windows 7, Vista, XP, and Mac OS X 10.5.8 or later, and transfers data from your PC over a USB 3.0 or 2.0 connection. You can also get a Firewire 800 or powered eSATA interface if you prefer.
The GoFlex Satellite sounds like a great idea, especially if you regret buying the 16GB iPad instead of springing for the 32GB or 64GB model. But it will be interesting to see how the device's streaming capabilities hold up under real world tests.
Connect with Ian Paul (@ianpaul) and Today@PCWorld on Twitter for the latest tech news and analysis.