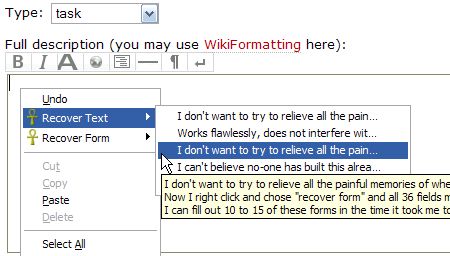 This is an update of a post from a couple years back. Once you read it, you'll understand why I felt compelled to run it again.
I'll wager money this has happened to you: After completing a lengthy Web form, you click Next or Save or whatever, and poof: your browser crashes, the server times out, your Internet connection dies–in other words, all your hard work is gone.
As someone who blogs for living (a task that relies heavily on Web forms), I can't count how many times I've experienced this particular nightmare. It's absolutely soul-crushing, something I wouldn't wish on anybody.
Fortunately, there's a simple, effective "do over" in the form of Lazarus, a Firefox add-on that makes it easy to recover lost form data. And I'm happy to report that the developers just released version 2.2, which is fully compatible with Firefox 4.
How does it work? Lazarus automatically (and securely) saves every keystroke you enter into any Web form, blog tool, comment box, or what have you. To bring back your data, just right-click and choose Recover Text or Recover Form from the context menu. Then, select the text you want to recover, and presto: it reappears like magic.
Firefox's own Session Restore feature sort of accomplishes the same thing, but it won't help you with accidental deletions, server timeouts, and the like–it's useful only in the event of a browser or system crash. Bottom line: If you use Firefox, you must use Lazarus. I've relied on this add-on for years and consider it an essential part of my Web life.