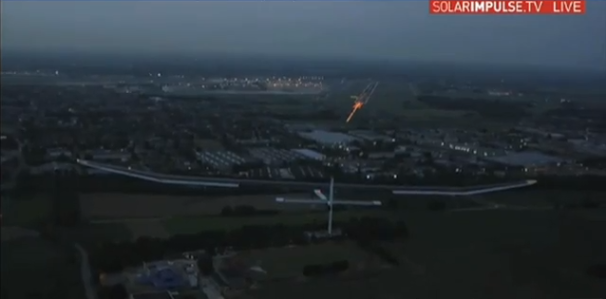 The solar eagle has landed onto record history, with the Solar Impulse setting down at Brussels' main airport, after a 13-hour international flight on May 12th. The historic flight began in Switzerland at 8:40 (11:40 p.m PST), cruised at 12,400 feet going an average 43 mph, and finally land at in Belgium at 21:38 (12:38 p.m. PST).
The Solar Impulse itself has 12,000 solar cells covering its 208-foot-long wings (that's as wide as a jumbo jet), but the entire body is made in part of carbon fiber, which brings it's weight to 3527 pounds–about the same as a typical four-door sedan. The plane's solar skin is manufactured by SunPower and scientists at Neuchâtel University is extremely thin, measuring only 150-microns thick, but manages to produce about 1000 watts.
The Impulse also packs some pretty fancy battery chemistry, courtesy of South Korean-based Kokam, who produced a new lithium polymer battery with nearly double the energy density. All the power goes to its four power sipping 10-horsepower engines, which are usually limited to 8 HP or 6kW.
The Solar Impusle project was first taken on as a challenge by its creators, Bertrand Piccard (yes he's a captain and yes he does sort of look like Patrick Stewart) and Andre Borschber, in 2003. The team hopes to complete a five-stage flight around the world starting in 2012.
[Solar Impulse via Fobes and Engadget]
Like this? You might also enjoy…
Get your GeekTech on: Twitter – Facebook – RSS | Tip us off