Comcast is expanding its services to medium-sized businesses by introducing metro Ethernet connections at up to 10-Gigabit speed, launching Monday in more than 20 U.S. cities.
The services include links between two company locations, among multiple sites, or to the public Internet. Comcast is offering plans ranging from 1M bps (bits per second) to 10G bps and will allow customers to scale up their connections by increments.
Metro Ethernet brings the type of technology used in most enterprises' own LANs to service-provider networks. Businesses increasingly are switching to metro Ethernet from traditional leased lines because the new technology typically offers lower per-megabit prices and gives users more flexibility in terms of bandwidth, according to analyst Cindy Whelan of Current Analysis.
AT&T, Verizon and some other service providers already sell metro Ethernet. Comcast is offering the technology to medium-sized businesses after providing it to mobile operators as backhaul from cell sites for the past two years, said Kevin O'Toole, senior vice president of business products and strategy at Comcast.
"This is the exact same network we're using for our cellular backhaul customers," O'Toole said. Delivering cellular backhaul is a very demanding task because of the latency-sensitive services carriers need to deliver over their networks, he said.
Comcast, the biggest U.S. cable operator, started selling broadband to businesses in 2006 but so far has remained focused on small businesses with 20 or fewer employees. Its plans range from downstream speeds of 12M bps to 100M bps, using the same type of technology that powers its consumer cable service. The metro Ethernet services are aimed at enterprises with between 20 and 500 employees, according to O'Toole. This is a growing battleground among service providers as big telecommunications carriers look beyond large enterprises for business subscribers, said Whelan of Current Analysis.
"I think what Comcast has is competitive, and I think it's a good start for them," Whelan said. It's possible the company will be limited in its rollout by the markets in which it is the franchise cable provider, but it might be able to set up links in other regions through partnerships with the cable companies operating there, she said.
The Ethernet service is a step up from its small-business data service. The metro Ethernet service comes with service-level guarantees, including at least 99.99 percent availability, O'Toole said. The small-business service has no such guarantee.
A customer of the metro Ethernet service could start by signing up for 1M bps and upgrade to services as fast as Gigabit Ethernet using the same onsite equipment. Up to 10M bps, subscribers can upgrade their service in increments of 1M bps, and between 10M bps and 100M bps, the service can be boosted by 10M bps at a time. Similarly, above 100M bps, customers can increase their speed in increments of 100M bps to 1G bps. Above Gigabit Ethernet, different equipment is required and users can upgrade by 1G bps at a time.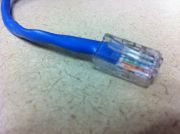 Comcast is pricing the new technology to attract, among others, companies that are using bundled T-1 lines or fraction T-3 (45M bps) services to achieve multiple-megabit performance. Comcast said that with metro Ethernet, a company could get 10M bps for US$1,200 per month. Doubling that to 20M bps would boost the monthly rate by just $200.
Comcast's metro Ethernet services can be set up in four different ways: point-to-point links from one company site to another, point-to-multipoint networks between a central location and branch sites, multipoint-to-multipoint connections among many company facilities, and Ethernet Dedicated Internet Access Service, with continuous high-speed connectivity between the company's LAN and the Internet.
The services are available now in markets including Chicago, Houston, Philadelphia, Atlanta, Miami, San Francisco, Boston, Seattle, Washington, D.C., Denver, and New Jersey. Comcast said it will continue to add more markets. Today, Comcast runs metro Ethernet entirely over fiber. The company needs to evaluate its ability to reach a given customer's location with fiber but will work to get permits and build the connections wherever it can in those markets, O'Toole said. Comcast is working to provide Ethernet over existing coaxial cable in the future, he said.
Stephen Lawson covers mobile, storage and networking technologies for The IDG News Service. Follow Stephen on Twitter at @sdlawsonmedia. Stephen's e-mail address is stephen_lawson@idg.com