Thursday will mark the 10th anniversary of Apple retails stores, and Apple is preparing for a special event to celebrate the event. Staff has been mobilizing at Apple stores around the country, preparing for a hardware-related launch, "a solid Apple source" told BoyGeniusReport.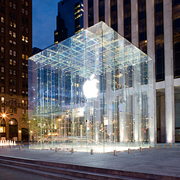 Apple has more than 300 stores worldwide (236 of which are in the United States), with the first two Apple stores opening in America in 2001. During the 2010 holiday shopping season alone, Apple's store brought in around $3.9 billion in revenue, so the company naturally wants to celebrate the 10th anniversary.
But besides the fact that Apple is planning something big this weekend, details are sketchy. BoyGenius reports that 10 to 15 individuals at each Apple store are set to work from late Saturday through to mid-Sunday, and apparently stores already received hardware to install, but they're under lock and key until Saturday night. The rumor is in keeping with earlier reports that Apple is indeed planning something special for this weekend.
Keeping in tradition with Apple's strict secrecy, the staff are said to be under a nondisclosure agreement, and will have to lock their phones in the main office during the overnight shift on Saturday. Apple even reportedly sent large training files to shop computers, but they are under passwords to be divulged on Saturday night, too.
So what is Apple planning? While this might be good moment to launch long-rumored Apple products, such as a TV set, or a free MobileMe service, Apple is probably just preparing some special discounts, or they're just redecorating.
Follow Daniel Ionescu and Today @ PCWorld on Twitter