Microsoft has unveiled a deeper conglomerate of Bing and Facebook that harvests the power of the social Web, one year after forming a partnership to take "social search" to the next level.
When the partnership was formed it seemed meaningless and redundant. After all, if you're checking Facebook and Twitter several hundred times a day, do you need your friends' updates appearing in your Bing search results? Where's the value in that? Well here's a look at Bing's new Facebook features and why this may mean the end of Google +1.
Shared Shopping Lists
When you're shopping on Bing — say, for a Microsoft Kin phone — you can add items to a shopping list to keep track of your browsing history. Now you can share those lists with other Facebook friends with the click of a button.
"Liked" Search Results — with Faces!
The first rollout of Bing and Facebook included "liked" pages of Facebook friends — now you can see the faces of up to three "likers," just in case you forgot.
Crowdsourced Popularity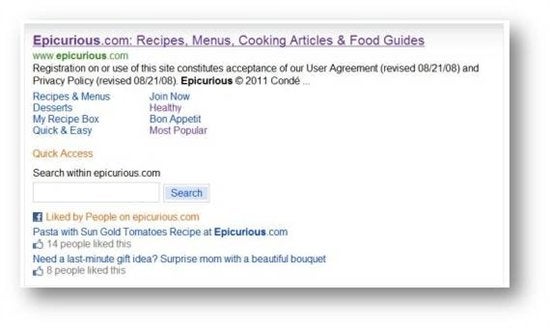 Not only will Bing reveal the pages your friends like, you can also see what other Facebook users are digging lately. Bing shows descriptions of pages other people like — without revealing their Facebook identities — to gauge not only what sources are validated by the herd, but also individual pages within those domains. For instance, you'll see that many people "like" Epicurious and can also see its most popular recipes.
Deeper Facebook Profile Search with Locations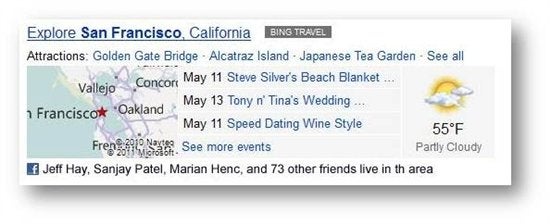 Bing makes Facebook stalking easier with enhanced profile search results, including picture, location, education, and employment details. Perhaps even creepier, you can now see where your Facebook friends are living. So, for instance, if you're headed to Boston and do a quick Bing search, the results will show you which of your buddies reside there.
Flight Deals
It's hard to keep track of all the deal-of-the-day services on the Web, and it's even more taxing if you only want to go to one specific location. Now you can "like" the results of Bing's already-comprehensive travel search function, and have updates on new deals sent directly to your Facebook feed.
What this Means for Google +1
Beating Bing and Facebook's expanded partnership with its own social plans may prove nearly impossible for Google. Even though Google has a stronger foothold in the market — 65.4 percent of the search market compared to Bing's 14.1 percent, according to comScore's April 2011 U.S. Search Engine Rankings — Google has a strained and ugly relationship with Facebook, as evidenced by the exposure of Facebook's recent anti-Google smear campaign. With more than 500 million Facebook users, it's hard to imagine any social network that come close to tapping that market.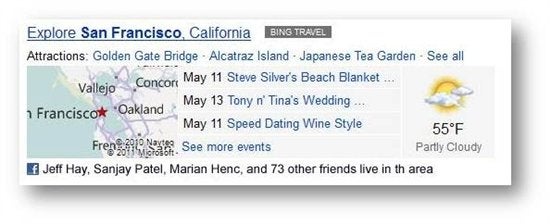 Not to mention the technical limitations of Google +1. Whereas Bing takes existing "likes" from Facebook friends and strangers and melds them into search, Google +1 requires that you "like" — or "plus one" — the site from the search results page. Plus, the updated Bing Bar toolbar add-on for Internet Explorer (version 7 and above) adds a feature that allows you to "like" any page on the Web, whether there's a Facebook button or not.
I wasn't a fan of the concept of social search when it began, and while I still have doubts that my Facebook friends — some of which aren't real-life friends — have insight into what I do and do not want from the Internet, Bing and Facebook's evolving partnership is bringing with it unique and interesting new tools for Web crawlers from all over.