At a Glance
Expert's Rating
Pros
Decent gaming frame rates
Good everyday performer
Cons
Annoyingly bright power button light
Only 10/100 ethernet
Our Verdict
Like an unmarked highway patrol car, this all-purpose laptop's unassuming looks belie its power.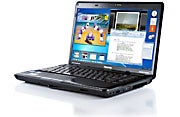 If you're looking for svelte, sexy design, then Toshiba's $1100, 5.5-pound Satellite M645-S4118X may not be your cup of tea. If you're looking for excellent all-purpose laptop performance, playable gaming frame rates, and top-notch sound and video–including Blu-ray–then it's Earl Grey with a vengeance.
Pedestrian in appearance (if not in price), the M645-S4118X has plenty of power under its hood: 6GB of memory feeding an Intel Core i5-2410M CPU, an Nvidia GeForce GT 525M with 1GB of dedicated memory, and a 5400-rpm, 640GB hard drive. The unit racked up a score of 117 on WorldBench 6, which is good but not category-leading. Gaming frame rates are reasonable, thanks to the Nvidia graphics card, but for really high-end games you will have to sacrifice some detail to get playable frame rates. Video playback on the 1366 by 768 display, including 1080p Blu-ray, is ultra-smooth. Even the sound emanating through the Harman/Kardon speakers is above average.
Ports are mostly standard fare for a system this size: a single always-powered USB 3.0 port, two USB 2.0 ports, headphone and microphone jacks, VGA, HDMI, ethernet, and a Kensington lock port. The model lacks eSATA, possibly because the BD-ROM/DVD burner doesn't leave much room for it, but USB 3.0 largely obviates the need for it. Oddly, though, outside of Bluetooth, the connectivity isn't the latest and greatest–no 5GHz wireless, just 2.4GHz 802.11b/g/n, and the ethernet is only 10/100.
The M645-S4118X's ergonomics are above average. The portion of the top deck housing the keyboard is lowered, which puts your fingers in exactly the correct position for comfortable typing on the medium-throw, Chiclet style keyboard. The keyboard's feel is a tad soft, but has more than enough tactile and aural feedback to create a nice typing rhythm, and the layout is excellent. It's backlit, but you may turn that off in the BIOS if you wish.
The touchpad is very responsive; the buttons are a tad stiff, though. A switch just above the touchpad turns it on and off should you find yourself accidentally moving the cursor with the balls of your thumbs–a problem I've experienced on other laptops, but not on the Satellite M645-S4118X.
A sparse but competent bundle of software is onboard the M645-S4118X: WinDVD for movie playback chores, the Toshiba WebCam utility (you'll want to close this during movie playback), Microsoft Office 2010 Starter, and a trial of Norton Internet Security. Also packed in are numerous Toshiba utilities, many of them background applications, including online backup and the shock sensor, but many are not as useful as those two. After trimming the fat, and replacing NIS with Microsoft's Security Essentials, a fast-feeling laptop felt even faster.
The M645-S4118X does suffer one glaringly poor design decision: The bright power button light directly under the screen can be truly annoying when you're watching a movie, or just using Skype with the 640-by-480 Webcam. For some reason, Toshiba doesn't provide a means of turning it off, but covering it with electrical tape works nicely.
On the other hand, you may charge a cell phone off of the USB 3.0 port, or play music using a male-to-male stereo cord plugged into the microphone jack while the laptop is asleep. The behavior may be disabled in the BIOS to extend battery life if you wish. We ran our battery tests with these features disabled, as well as the keyboard backlight. In that state, the Satellite M645-S4118X managed a respectable 4 hours, 24 minutes of run time. Not bad at all for a laptop with this kind of horsepower.
It's not going to turn heads, even in a sedate boardroom environment, but the Toshiba Satellite M645-S4118X lets you get your work done quicker than most of the high-fashion alternatives. That means you can get on with your life, or if you prefer, wreak havoc on digital opponents with its exceptional gaming abilities.