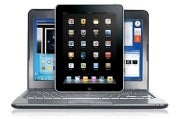 Has the much-discussed "post-PC era" finally begun? The term has been tossed about for years by industry executives and pundits alike. Its most recent high-profile use came during Steve Jobs' iPad 2 unveiling in March, when the Apple CEO/guru called the iPhone, iPod, and iPad "post-PC devices" that needed to be more intuitive and easier to use than conventional desktops or laptops.
Well, add Forrester Research to the list of industry watchers who believe the post-PC era has begun. In a new report released Tuesday, Forrester analyst Sarah Rotman Epps says that computing devices–and how we interact with them–are currently undergoing a dramatic shift to:
· Ubiquitous computing: Mobile devices with sensors such as accelerometers, gyroscopes, and geolocators are freeing us from the stationary limitations of desktop PCs.
· "Casual" computing: Instant-on/always-on smartphones and tablets remove the formal boot up/shutdown process of the desktop.
· A more intimate experience: Tablets and smartphones are kept close to your body, whereas using a laptop or desktop is "arms-length activity," writes Epps in a blog post. This means that consumers are using computing devices in intimate places, including the bedroom. Sounds like a boon to couples' therapists to me.
· Physical interaction with devices: Touchscreens, voice input, motion-sensing devices such as Microsoft Kinect, and cameras with facial recognition allow your "body and voice" to control the machine. By comparison, the desktop's mouse/keyboard interface is more abstract and less personal.
What's it all mean? Certainly, the mobility and ubiquity of today's tech devices is changing the way interact with our digital assistants. But the laptop and desktop aren't going away anytime soon.
"So what does 'post-PC' mean, anyway? It doesn't mean that the PC is dead," Epps writes. In fact, Forrester forecasts that U.S. consumer laptop sales will grow at a compound annual growth rate of 8 percent between 2010 and 2015, and desktop sales will decline only slightly.
And while 82 million American consumers will own a tablet in 2015, more than 140 million will own a laptop, Forrester predicts.
"In the post-PC era, the 'PC' is alive and well, but it morphs to support computing experiences that are increasingly ubiquitous, casual, intimate, and physical," says Epps.
Contact Jeff Bertolucci via Twitter (@jbertolucci ) or at jbertolucci.blogspot.com .