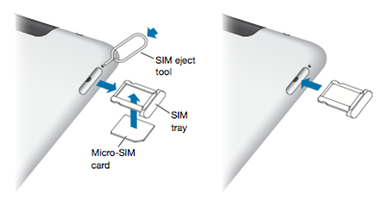 Apple's gadgets are about to get even thinner if the company has its way with proposals for an even smaller SIM card. Apple is pushing for standardization of a smaller SIM card than the microSIM found in the iPad and iPhone 4, according to Reuters . A SIM card (or Subscriber Identity Module) is a portable memory chip that is often interchangeable with other mobile devices that holds subscriber data, a cell phone number, and wireless carrier information.
Apple is trying to persuade wireless carriers worldwide to use a SIM card smaller than the one found in current iPhone 4 and iPad 3G models. According to reports, the company submitted a new requirement to European telecoms standards body (ETSI), which confirmed the proposal. However, even if Apple has its way with the smaller SIM, it can take more than a year until the solution would be implemented, ETSI said.
If the smaller SIMs become standardized, the first Apple gear rocking the new specs could come out as early as next year, according to European carrier Orange, which already welcomed Apple's proposals. As usual, Apple did not comment on the proposals.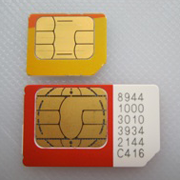 Apple was the first major manufacturer to use microSIM cards. The original 3G+Wi-Fi iPad launched in 2010 used the smaller cards, followed by the iPhone 4. The 2011 iPad 2 also uses the same technology for the 3G models.
Last year Apple was reportedly working on a 'special' SIM card that could allow the company to offer telephony services direct rather than rely on third party carriers. With the technology, users would bypass carriers in activating phones. But this didn't go down well with the operators who reportedly threatened to cut iPhone subsidies-so plans fell through.
Follow Daniel Ionescu and Today @ PCWorld on Twitter