Search engine giant Google had a bold strategy: Create a new operating system and try to take down the top dog. What made this really bold is that Google is trying to do this not once but twice, and at the same time. In the mobile space Google's Android has gone after Apple's iOS, while on the PC front it's going against Microsoft's Windows dominance with the cloud-based Chrome.
So the question is, why two different operating systems? The answer is simple: Because it can. Google has been extremely successful in many areas, and this move could be seen as the company hedging its bets. Rather than putting all its eggs into one basket, Google is opting to develop two operating systems that operate differently.
And here is where it gets even more confusing, but in the end actually makes some sense. Chrome is Google's open source Web browser; and essentially like Firefox, it's taking a bite out of Microsoft's Internet Explorer. But Chrome is also Google's new cloud-based operating system.
Essentially Chrome the OS is born out of Chrome the browser, because Chrome the OS uses Web-based applications. So, Chrome is both a browser and OS, while Android is an OS with its own browser.
Yet Google isn't lending the shine of Chrome to Android, which doesn't include Chrome the Web browser.
A Tale of Two Operating Systems
Google isn't the only company to have multiple operating systems. Microsoft has been in the multi-OS business for years. Yet Google's strategy is unique, as the two operating systems almost exist without the slightest acknowledgement of the other.
This was notable at the Google I/O conference last week. Both the Android and Chrome OS teams were given a day to strut their stuff, and it was clear that each has its own agenda and strategy. However, this isn't all that unique. Microsoft and Apple each have two operating systems, as well. You have Microsoft Windows and Windows Phone 7, as well as Apple Mac OS X and iOS.
What sets Google apart are the different strategies behind Chrome and Android.
Chrome OS is all about work in the cloud, which connects users to Net-based services and applications. Without the cloud, there is no shine to Chrome–and a a limit to what you can do with Chrome, which is mainly to access your local files. Chrome is also intended to be a laptop OS within the upcoming line of Chromebooks from Acer and Samsung –which is odd in that many business travelers are in the literal clouds at times, and thus unable to access their cloud-based applications.
Android, on the other hand, has primarily been a smartphone OS–one with which the cloud is still important, such as for using Gmail and Google Docs–but not on the same level as Chrome. You can access many applications even if your device can't connect to the network, such as when you're flying at 50,000 feet. Chrome is a cloud-based OS, and Google constantly updates it–and unlike with those annoying Windows updates and patches, much of this will be seamless. Android, on the other hand, will likely continue with regular upgrades, such as the recently announced 3.1 Honeycomb update.
Chrome remains a browser at heart, whereas Android is a full-fledged operating system that has a browser as an app. However, as it is designed originally for mobile phones and has more recently been brought to tablets, Android remains better for content consumption than creation.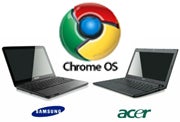 Where things get confusing again is in how the two operating systems could overlap.
Chromebooks will enter the netbook and laptop market, while Android has moved into the tablet space– including on the Samsung Galaxy Tab, which runs Android 3.0. But will the two operating systems ever become one as a result? Probably not, at least for now.
In the long run, if Chrome were included on Android-powered devices, it could become the gateway to the cloud, a best-of-both-worlds scenario. Thus an Android device would remain usable for content consumption when the cloud is inaccessible, and via Chrome it could serve for cloud-based content creation.
Motorola has shown another vision of future with its Atrix and Lapdock, an Android handset that can work as a laptop PC when synced with the Lapdock. Add Chrome to the mix and that future is here now.
As it stands, Google seems content with two different OSs to support. Questions remain, however, such as how apps and tools will develop for the respective operating systems. But having two potentially successful packages is hardly a reason to dull the shine of either Chrome or Android.