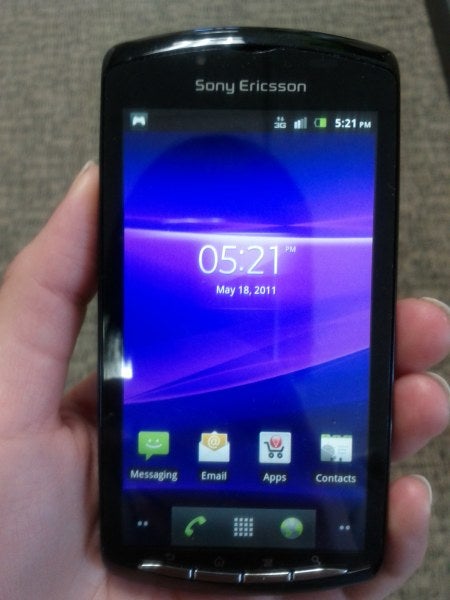 We're trying to contain our geeky delight over here as the Xperia Play has finally arrived at the PCWorld office. Announced back in February at Mobile World Congress, the Xperia Play will make its way to US shores on May 26 for $200 with a two-year contract with Verizon. If you're super-anxious to start gaming, you can pre-order the Play starting tomorrow.
The Xperia Play has PSP-like controllers with your familiar Left and Right shoulder buttons (at the top of the phone). Slide out the phone, and you'll see a four-way directional pad, the iconic letter keys (like the PlayStation controllers), and two oblong touchpads for your thumbs. Right off the bat, I noticed that the build of the keys and controls felt a bit on the plasticky side. It didn't feel flimsy to me though, as some reviewers have reported.
According to Sony Ericsson, the Play gets five hours of battery life for straight gameplay. Of course, realistically, you'll probably get a call or a text (if you know, you have a social life beyond gaming) somewhere in between that time so that might not be exactly accurate. We plan on doing our own battery life tests on the Play in a few days.
The Play comes with the latest version of Android Gingerbread (2.3.4), with all of the latest security fixes. I appreciate the fact that Sony Ericsson kept the user interface fairly clean. With the exception of a game launcher (which only pops up when you slide-out the game controls), you get the standard Android 2.3 interface.
Seven game titles come pre-loaded on to the Play: Madden NFL 11, Bruce Lee Dragon Warrior, Asphalt 6: Adrenaline, The Sims 3, Star Battalion, Crash Bandicoot, and Tetris. Crash Bandicoot is notable as it is the first PlayStation I game out for the phone. Sony Ericsson told me today that it anticipates even more titles–fromboth PlayStation I and II–to become available via the PlayStation Suite, a library of game development tools.
Playing the beloved Crash Bandicoot with its fuzzy "3D" mid-1990s graphics on a mobile phone is certainly a novelty. After a few minutes of playtime, I wanted to see how the Play handled something more graphically rich. Star Battalion was much more satisfying in that respect. The graphics were rich and gameplay was incredibly smooth.
One strange thing I noticed, however, is that the grid of touch sensors of the display become visible when the screen reflects off light. Essentially, they look like a screen of small dots. It isn't exactly distracting during gaming, but it does give your games a weird effect if you look at them too closely.
Stay tuned for a full rated review of the Xperia Play after we put it through our hands-on tests and do a whole lot of gaming.