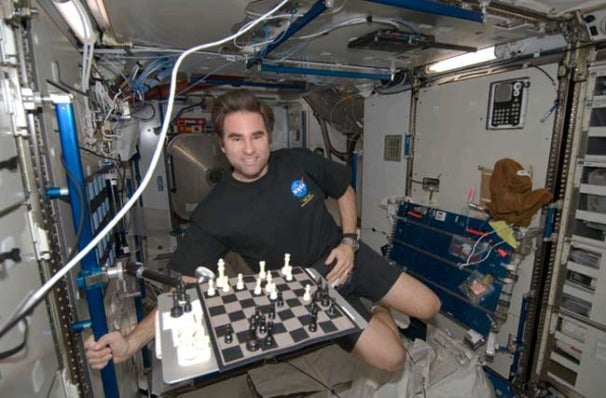 In the ultimate showdown (of ultimate chess destiny) between Earth and the dark abyss of space, astronauts aboard the International Space Station (ISS) have challenged the people of Earth to a game of chess. (Insert pause for dramatic effect.) At least this ultimate showdown isn't the one where aliens come and try to wipe humanity off the face of the planet (thank you War of the Worlds).
No, it's less dramatic, but I'm not exactly complaining, either. This showdown of Earth vs. Space 2011, is actually the second such chess match–the first took place back in 2008.
The chess game is sponsored by the US Chess Federation (USCF) and is actually being played by thousands of people. Us Earthlings play the black pieces, and Team Space (playing the white pieces) are astronauts Greg Chamitoff and Greg H. Johnson. Chamitoff played for Space back in 2008–he also lost to Earth.
The first move was made for Space just prior to the first launch attempt on April 19, but the shuttle launch was delayed thanks to a fault in an auxilary power unit. Earth's move was then chosen by 1,200-plus participants at the National High School Chess Championship in Nashville, TN that following weekend.
Chamitoff says that they hope to do better in this Earth vs. Space match but they have a very busy flight ahead so it'll be pretty hard. However, this game will be extremely difficult for the astronauts; after all, there are only two of them and they are playing against a heavily populated planet.
Chamitoff is also battling multiple mission contols around around the world including Houston, Texas; Huntsville, Alabama; Moscow, Russia; and Munich, Germany; among others. You can vote on Team Earth's next move at the USCF Website, and also view full history of all the games between Earth and the ISS.
Follow James Mulroy on Twitter and on StumbleUpon to get the latest in microbe, dinosaur, and death ray news.
Like this? You might also enjoy…
Get your GeekTech on: Twitter – Facebook – RSS | Tip us off