Compuware Gomez is debuting Internet Health Map, a tool that provides nearly real-time visual data on the flow of data through the Internet. The map is so accurate that it not only covers the Internet's backbone, but also goes down to the last mile of fiber-optics in neighborhoods.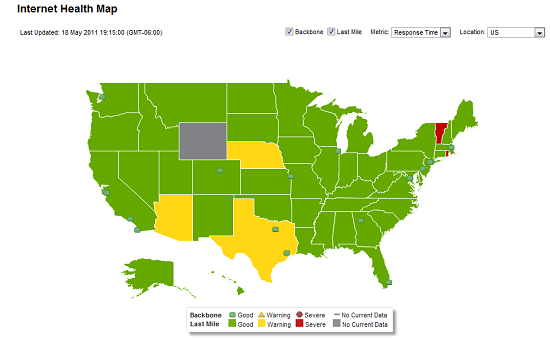 Power users will appreciate the map's use of six different metrics, including response time, DNS time and throughput. I've checked on the map since its launch and noticed that it's not a good week for response time from the last mile in Vermont, Nebraska and Arizona.
But besides fleeting moments of state pride, the map can be a great resource for anyone encountering server or Web-browsing troubles to instantly determine whether the problem may be a wide outage or one limited in scope.
"You get a very clear indication of how actual users, not a data center server, are experiencing the Web," according to Compuware Gomez spokesman Frank Cioffi. "Backbone-only measurements can mask problems occurring in real neighborhoods. This is a core differentiating value to this map. Last mile data is hard to come by and is not readily available in aggregate form."
Data for the map is culled from the Gomez Global Performance Testing Network, which Cioffi says includes more than 150 data centers, as well as 150,000 real end-user PCs that help provide the hard-to-come-by last mile data.
The map's data refreshes every five minutes, unless you're in Wyoming, which has been showing up as not available all week.