Amazon has expanded its product trade-in program to include electronics, so if you're saddled with obsolete or unwanted gadgets — including tablets, smartphones, MP3 players, digital cameras, GPS units, and more — you can unload them for Amazon.com gift certificates.
Trading in your electronics works the same way as unloading your other items:
Search for your device on the Electronics Trade-In site
Select the condition of the item — "like new," "good" or "acceptable" — each of which comes with a varied reward
Print out a free shipping label
Send your stuff within 7 days of the online trade-in submission — you can even group dissimilar items in the same box
After Amazon receives and inspects the item, you'll see the gift card balance deposited into your account, "generally in less than 48 hours"
One of the biggest selling points for using Amazon's Electronics Trade-In is hidden in the fine print: "If your items are considered to be in a better trade-in eligible condition than what you selected, you will receive the corresponding higher amount." So if Amazon's definition of "good" is your definition of "acceptable," then you'll automatically get the higher amount.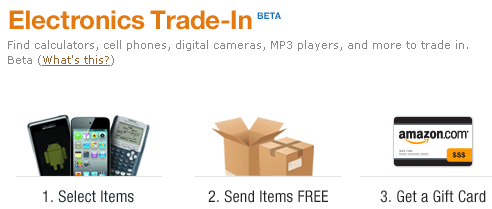 In 2009, Amazon started accepting trade-ins of textbooks, movies and video games. Some saw the lack of instantaneity as a thorn in the program's side — nothing will harsh the buzz of instant gratification more than shipping and waiting. And while trading-in your electronics still makes you wait, Amazon's deals may inspire patience in you.
For instance, I've been carting around a 16GB iPhone 3G for ages. After the iOS 4.0 update essentially rendered the iPhone 3G inoperable, I was forced to buy a new phone, but still stuck with the old one. No one in their right mind would touch it, not even on Craigslist. But on Amazon, the 16GB iPhone 3G can get between $93 and $153, depending on its condition. In fact, if I were to ditch Apple altogether, I can get more money (well, gift card money) for my 32GB AT&T iPhone 4 — up to $480 — which is more than I originally paid.
Sure, trading in gadgets for Amazon gift cards isn't the same as getting a fistful of cash, but then again, Amazon sells practically everything, so the trade-in becomes a fair trade-off.