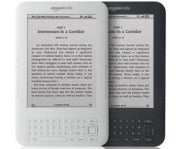 Now that tablets are all the rage, it's easy to think e-readers may no longer have a market.
Not so fast.
Both Barnes & Noble and Amazon are forging ahead with standalone e-readers, even though each also has a strategy for moving into the multipurpose tablet universe. It probably helps that Amazon just announced Thursday that the online retailer is now selling more e-books than print books.
The latest round comes from Barnes & Noble, which casually revealed in an SEC filing that it will be introducing "a new e-reader device" on May 24. At the moment, we know nothing other than of this new device's existence, but here are some thoughts on what might be coming–and why.
The company recently launched a significant update to enable apps on its Nook Color tablet, so it seems likely that, instead of releasing another tablet, B&N will update its original Nook e-reader. That model, first released in December 2009, has received software updates, but pales in comparison to Amazon's nearly year-old, third-generation Kindle, which is slimmer and has a sharper, clearer E-Ink Pearl screen.
Another reason to suspect the Nook will get an overdue refresh: B&N settled a long-running dispute with Spring Design, makers of the now-discontinued Alex eReader, by getting "non-exclusive, paid-up royalty free license for the entire portfolio of Spring Design patents and patent applications." This could lead to improved dual-screen technology on a next-generation Nook; the first Nook had a small LCD strip for navigation, but Spring Design's dual-screen approach-with an E-Ink screen on top and a roomy 3.5-inch Android-based LCD on bottom—was far more functional than B&N's was.
Meanwhile, Amazon updated its Kindle a couple of months ago, introducing the cheaper, $114 Kindle With Special Offers, which makes up for its price cut by advertising special deals on the screensaver. It's an advertising ploy, to be sure; but between that step, and Amazon's recent gift card incentives if you buy a Kindle, and it feels like a sub-$100 e-reader can't be far behind. And at that price, it would be a strong complement to whatever Android tablet Amazon rumors say to expect for this year.