Playboy managed to bypass Apple's puritan rule over the App Store and launch a Web app containing all the back issues of the adult magazine.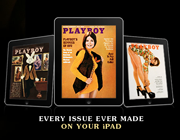 For $8 per month you can get access to the entire collection of Playboy issues across 60 years, including access to every new issue.
The Playboy Web app was scheduled to launch in March but it seems it took the magazine a little longer to circumvent Apple's pornography restrictions in the App Store. Apple made it clear on numerous occasions that there is no place for porn in the App store, but Playboy found a way around it.
If you point your iPad browser to i.playboy.com you will be able to access the Playboy collection straight from your tablet. The subscription process (by month or $60 per year, $100 for two years) is done through Playboy's own system, rather than through Apple's, as the content is not available in the App Store.
Inside, you will find more than 130,000 pages of Playboy magazines starting from December 1953 to present, and new issues will be added every month for your viewing pleasure, Playboy says. The site is formatted in HTML 5 and Bondi Digital formats the content. Exclusive videos and content are expected to arrive starting June.
As Jimmy Jellinek, Playboy's chief content officer puts it, you no longer have to store 57 years — 682 issues — of Playboy under your mattress. Instead, it's all available from an iPad, and of course, any Android tablet you fancy.
Follow Daniel Ionescu and Today @ PCWorld on Twitter