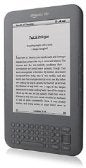 Much of the buzz coming out of the SID Display Week 2011 International Symposium conference in Los Angeles this week is about high-resolution screens for tablets capable of 2560-by-1600 resolution — five times that of the iPad's 1024-by-768 display. But Samsung, makers of those eye-popping screens, also unveiled new e-reader screens that use the colored oils of "electrowetting" and can show up to 16.7 million colors.
Engadget captured video of Samsung's electrowetting displays — the product of its acquisition of Liquavista earlier this year — that show how electrowetting displays look more like tablets than traditional e-ink e-readers, which use electrophoretic tech, like Amazon's Kindle.
Not only are electrowetting e-reader displays easier on the eyes than backlit LCDs, they also don't consume as much power and offer a refresh rate that's 70 times faster than e-ink. They can also display video — thinning the line between e-reader and tablet.

There's no word from Samsung on whether the company intends to manufacture its own electrowetting e-readers or if it will sell the technology to third parties.
What I find most curious about electrowetting displays is how they will impact the next generation of tablets. If this tech was licensed to a company like Amazon or Barnes & Noble, they could be used in e-reader tablet hybrids — not unlike Pixel Qi's innovative netbook e-reader screens.

Up until now, Amazon has held back from making tablets and ditching the e-ink Kindle because the company wanted to build a single-purpose device for "serious readers." This is also why Amazon waited to build a color Kindle. But if reports that Amazon is building a series of Android-powered tablets are true, perhaps Amazon could bridge the gap between e-reader and tablet using electrowetting technology, either by maintaining its loyalty to serious readers and single-purpose devices — but with color — or creating a hybrid tablet.
Either way, keep your eyes peeled: Samsung intends on mass producing electrowetting displays by the end of this year.