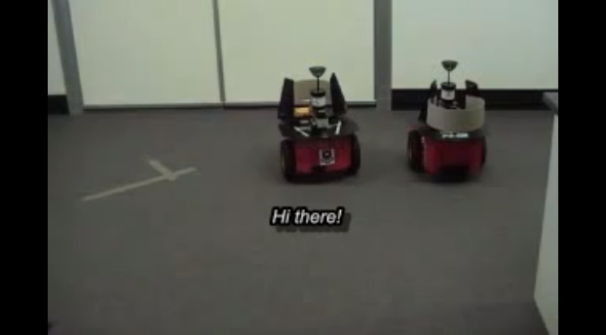 This year's IEEE International Conference on Robotics and Automation included the presentation of an important development in robotic reasoning and language skills–by letting some woefully uninformed robots loose in an unfamiliar area and forcing them to form their own spoken language so that they could navigate. The disorientation tactic was referred to as a "game." Poor robots.
The study, by research teams from the University of Queensland and Queensland University of Technology, and headed by Ruth Schulz, gave the robots (called Lingodroids) a selection of random syllables to choose from. At a new location, one robot would select a couple of syllables and tell them to any others it met, then they would play a game: the robots would focus on the same place name, and see if it corresponded to the same, well, place.
When the robots arrived at the same place with an agreed-upon name, that contact reinforced the connection between location and nomenclature. Soon they were making up words for distances and directions, and after playing the game several hundred times the robots had established a fairly common language – the same words agreed on distances within 0.375 meters, and directions within 10 degrees. Dialectical variation! In addition, the robots created maps of their environments that could be a great help to any other hapless bots in the same condition.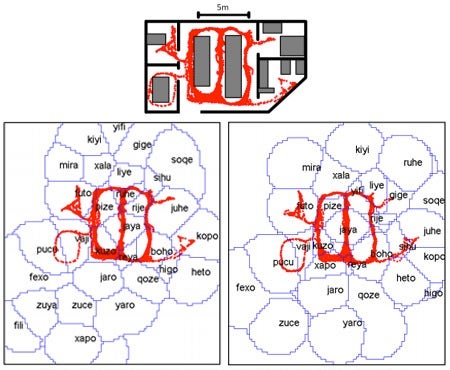 Getting lost and running around yelling two-syllable words several hundred times doesn't sound like too fun of a game to me – wait, let's ignore how many times I played Marco Polo as a kid – but the resulting payoff of an organically-formed spoken language is a lot better than the pile of paper you get when you win Monopoly.
In other robot news, a team from Georgia Tech taught robots sword fighting, but don't worry, the robot revolution isn't here quite yet: fighting techniques actually make the robot safer. If the robot can sense and block direct attacks, it'll be able to sense and respond to any other unpredictable human motion. Regardless of intent, it's hard to get more awesome than robots with swords.
[Lingodroids via CNET Crave and IEEE Spectrum]
Like this? You might also enjoy…
Get your GeekTech on: Twitter – Facebook – RSS | Tip us off