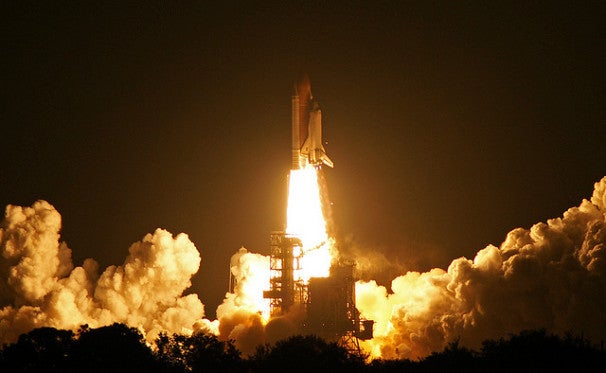 Editor's Note: Earlier this week, our James Mulroy looked at some of the options NASA has for manned spaceflight after the Space Shuttle program ends this summer. But not everyone is so optimistic: Our Lincoln Spector shares his take on the future of manned spaceflight here. Agree? Disagree? Read on, and leave a comment with your thoughts.
I'm writing this as the second-to-last Space Shuttle prepares to launch. It looks like, at least in America, the age of manned spaceflight nears its end. I don't expect it to last long elsewhere, either.
It wasn't supposed to end like this. In fact, it wasn't supposed to end. Space was to be the "final frontier," but we abandoned that frontier after half a century. Fifty years ago last month, Yuri Gagarin became the first human being to leave the Earth's atmosphere and venture into space, as well as the first to orbit the planet.
In the 1960's, everyone was dizzy with the promise of an Earth-free future. Star Trek offered weekly adventures to distant planets—even if they were, oddly enough, almost always populated by English-speaking white people with a serious social problem. 2001: A Space Odyssey showed us what appeared to be a far more realistic space-age future. But it turned out that the bulk of the film was as fanciful as the psychedelic ending. Ten years after the real year 2001, we still don't have commercial passenger shuttles taking us to a space station with artificial gravity and chain restaurants.
What happened? It turned out that sending people into space provided no benefit compared to sending machines, and sending the machines is far cheaper. They don't require food, or water, or oxygen. Columbus would have given up too if he'd had to take his own oxygen.
Look at it this way: Long before we learned how to write or farm, human beings populated all of the Earth's continents except Antarctica, which is still the only continent without cities, farms, or nations.
Why haven't we colonized the bottom of the world? The answer seems so obvious that the question sounds ridiculous. Yet compared to space, Antarctica is a paradise.
Manned spaceflight was, and still is, a nice dream. But it's one that's not going to come true.
[Photo: Matthew Simantov on Flickr (CC BY 2.0)]
Get your GeekTech on: Twitter – Facebook – RSS | Tip us off