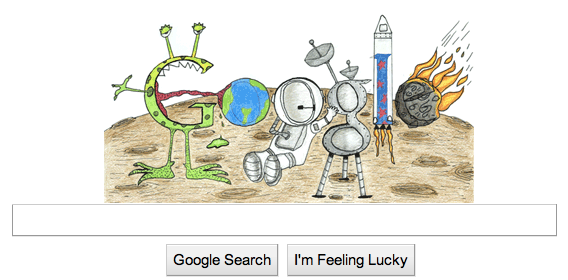 Google's created doodles to celebrate a range of events, people and things: from modern dance legend Martha Graham to a playable Pac-Man game and even celebrating the company's own birthday. However, today's doodle is actually a child's drawing–and a darn good one at that.
Called "Space Life," the doodle was created by 7-year-old Mateo Lopez of South San Francisco, California. Lopez entered his drawing into the Doodle 4 Google competition, and was the winner out of more than 107,000 submissions and five million votes cast.
Students were asked to draw on the theme, "What I'd like to do someday." Google received several entries from kids longing for a life in space, but also from those wishing to explore the deep sea and even become a storybook illustrator.
His award for being chosen is sure to make his parents happy: Google awarded Lopez with a $15,000 college scholarship, and donated a $25,000 technology scholarship to his school–Monte Verde Elementary.
It's certainly hard to believe the drawing was done by child so young. At a time when most of us are only just starting to write legibly, Lopez created something that you would think would have been drawn by a kid twice his age–with straight lines and vibrant color.
I know Mateo apparently wants to go to space, but I think he certainly has a future here on earth as an artist. But a kid can dream, right?
"Matteo's doodle of the Google logo artfully depicts a trip to space, walking on the moon, and even making friends with aliens," Google product management vice president Marissa Mayer said, noting that it was a difficult task to pick a winning entry this year.
All 40 finalists will have their doodles displayed at the Whitney Museum of American Art through June 16 and at SFMOMA in San Francisco May 20 through July 19.
For more tech news and commentary, follow Ed on Twitter at @edoswald and on Facebook as well as Today @ PCWorld.