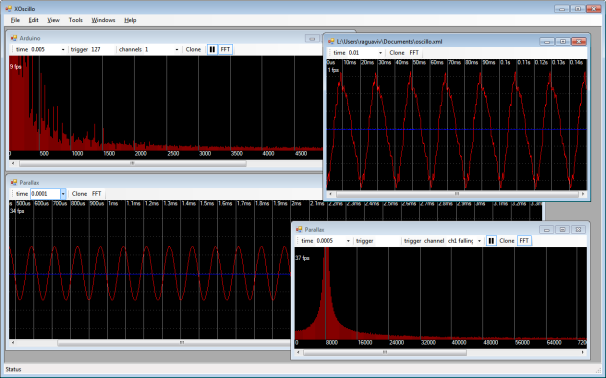 An oscilloscope is an instrument used by scientists and engineers to observe constantly varying electrical signal voltages. Oscilloscopes can be useful tools, but they can be expensive, depending on the model. What's a poor geek to do? Thankfully, you can make your own if you have an Arduino board laying around (who doesn't?).
Xoscillo is an awesome project that lets you to turn an Arduino board into an oscilloscope. Xoscillo also supports the Parallax microcontroller system, and in the future, you should be able to add your own microcontroller platform.
To make your own Arduino based oscilloscope, follow these four steps. Your board will be able to use up to four input channels at frequencies up to 7 kHz and as many as seven input channels at 4 kHz. It utilizes 8 bit vertical resolution, can sample voltages for as long as you need (or until your power line is struck by lightning), and you can use several boards together to increase the number of channels. Xoscillo also has a forum for you to ask questions when you break something (Got a degree in underwater basket weaving? Then this is very likely…).
This is definitely very handy for hobbyists and those without an oscilloscope. But if you don't have the patience for this sort of thing, you could just pick up the real thing really cheap on eBay (you can easily find an old working one for around $100 with shipping).
[Hack A Day and xoscillo]
Follow James Mulroy on Twitter and on StumbleUpon to get the latest in microbe, dinosaur, and death ray news.
Like this? You might also enjoy…
Get your GeekTech on: Twitter – Facebook – RSS | Tip us off