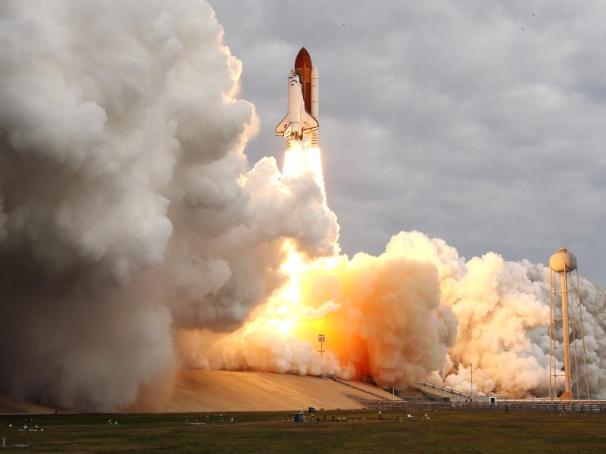 Space Shuttle Endeavour has been in space for about a week now and the crew has just recently found that there is a damaged tile on the shuttle's heat shield, bringing back horrible images of the Columbia disaster which shattered NASA and the nation back in 2003.
On Saturday at around 3:30 AM EDT, Endeavour's crew and NASA conducted an in-depth analysis of the tile to make sure that it was of no danger to the Shuttle during reentry. The crew lowered a boom with cameras and laser sensors to look at the tile which is behind the right landing gear door.
LeRoy Cain, the deputy program manager and chairman of the mission management team, said that the tile had been cleared and that there was no danger to the shuttle from the damaged tile because the structure beneath the tile will still only reach an estimated 219 degrees Fahrenheit–below its maximum temperature capacity of 350 degrees. To make sure that there is no danger, Endeavour's crew will conduct another inspection before departing the ISS.
The heat shield itself is fairly complicated and is composed of some 20,548 individual tiles that vary from between 1 and 5 inches to account for individual heat loads during reentry. The tiles protect against temperatures up to 2,300 degrees Fahrenheit, well above the capacity of the shuttle's aluminum skin and structure.
While the tiles are firmly glued on to the shuttle with a very durable and heat-resistant adhesive, it's not unreasonable to think that a damaged tile could come off, in which case the heat and intense reentry pressures could gain access to the inside of the shuttle potentially causing a catastrophic failure. In this case, NASA's analysis made sure that there was enough material left to take the heat.
With the damaged tile on everyone's minds, the astronauts still have a busy schedule ahead with the third space walk coming up this Wednesday. Not everything has been going smoothly, on the last space walk the AP reported that bolts started unexpectedly popping off of covers on a massive 10-foot-diameter joint that turn the station's massive 240 foot long solar arrays. Hopefully everything will eventually come together before the shuttle has to return on June 1st.
[Gizmodo, NY Times, and MarionStar]
Follow James Mulroy on Twitter and on StumbleUpon to get the latest in microbe, dinosaur, and death ray news.
Like this? You might also enjoy…
Get your GeekTech on: Twitter – Facebook – RSS | Tip us off