Livescribe smartpens are getting shortcuts for sending notes to popular Web services, as well as the capability to make interactive ?pencast? PDFs than animate recorded handwriting and synced audio.
The company is also introducing a $99 2GB Echo pen on Monday, $50 less than the 4GB model, to a trio of pens that hold up to 8GB of notes and apps.
The new Livescribe Connect service lets you "send" audio and handwritten notes from paper to Facebook, Google Docs, Evernote, your mobile phone, and iOS devices. This is a nice development, although the pen itself doesn't connect to any wireless network. Instead, you choose on paper where to send specified notes by making a series of smart keystrokes, taps, and key words, guided by the pen's OLED display. Not until you sync the pen via microUSB to a desktop app do your notes actually leave the pen.
Pencasts, which let you play back synced notes and audio recorded on the pen, now play in the free Adobe Reader 10, not just from the Livescribe Desktop application. Check out this gallery for examples of ways businesses are using pencasts.

Using Livescribe Connect with a $200 Echo 8GB pen for a few days had me hooked. It's an awesome way to record more than basic text; you can draw flow charts, mind maps, or flowers as you daydream during meetings. It's great for covering your tracks and ensuring the accuracy of your notes; audio recordings tied to your keystrokes could be a lifesaver in a fast-talking client meeting or hard-to-grasp classroom lecture. In a pencast PDF, green text indicates an audio recording–just click for playback.
Ideally, of course, I'd love for the pen to send data wirelessly without requiring a hard connection (but I imagine that could come down the road). I didn't get a hand cramp, although the device, alas, is thicker than your standard "dumb" pen. That could be a drawback if you're trying not to attract attention while note-taking. (Adjust the audio settings if the beeps are blowing your cover.)
In Video: Livescribe's Echo Smartpen Gets Social and More Connected
It was simple to set up e-mail messages from my Yahoo account using pen and paper. This also works with Microsoft Exchange, Gmail, Hotmail, and AOL Mail. (First, you'll have to import contact addresses to Livescribe via CSV or enter them one at a time.) You can even send an image of your chosen notes via MMS, and post them to Twitter via TwitPic.
Livescribe's security measures include locking your notes behind a username and password, which you must enter to hop onto the desktop software and transfer recordings. You can save content to a "personal cloud," kept private by default.
Eighty-seven percent of information workers use handwritten notes, according to a Forrester survey of 1000 people in March. Livescribe departs with its brainy pen from the approaches of other digital pens. Traditionally they've been billed as handy for workers, especially those fiilling out forms in the field to digitize via optical character recognition (OCR) later. The IOGEAR Mobile Digital Scribe, for one, works on any kind of paper. And the Adapx Capturx integrates well with Microsoft OneNote.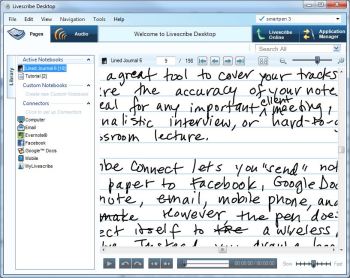 Unlike with word processors, text messaging, and other means of digital input, capturing thoughts with the Echo pen feels nonlinear and natural. Because the pen maps each stroke to exact coordinates on a page (unlike with IOGEAR's pen), you can let your thoughts wander, and come back to perfect an unfinished sentence later.
Plus, doodles are preserved in their basic black-and-white glory. The Livescribe Echo did an impressive job transcribing clean pen strokes, even though I write over my own writing and blacken unwanted words with vigorous crossouts, which can look pretty messy in a pencast.
But the company doesn't emphasize OCR translation of handwriting into digital letters. If you have the basic software, you'll have to pay $29 for MyScript software to do that–and it won't work well unless you've mastered tidy penmanship. I wanted to write this post with the pen, but didn't have the OCR tool set up. And I imagine my sloppola handwriting would have led to cussing.
The Livescribe Echo pen looks especially handy for teachers and students.This Chinese language lesson pencast is a cool example. Students can record lectures while they write, then listen later as they read the notes. Picture clicking on algebra class notes to replay the nutty professor's lesson in sync with your equations. My Livescribe notebook even includes a scientific calculator.
If you alreay have an Echo pen, you can get Livescribe Connect for free on the company's Website. The Basic edition includes connectors for Facebook, Evernote, MyLivescribe, and mobile. Users of the 2GB pen will have to pay $14.99 for the Premium edition–included ith the 4GB and 8GB devices–to get e-mail and Google Docs connectors.
Thanks to an open API, Livescribe has a gallery of more than 100 apps in its app store, launched in 2009. A Wikipedia app searches Wikipedia abstracts on the pen using your handwriting. For $14.99, the Paper Tablet app turns the pen into a mouse. The pen has beat a programmer at Tic-Tac-Toe.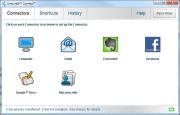 The Pencast Player app for iOS lets you play pencast PDFs on Apple mobile devices. Viewing notes synced with audio recordings could come in handy on a tablet. Although pencast PDFs use Flash, which you can't view on an iPad, Livescribe has worked around that. The company is promising Android tools down the road.
You'll need to buy Livescribe's proprietary, dotted paper to use the pen. A variety of notebooks are available; $24 buys a hardbound two-pack.
The Echo smartpen launched as a successor to the Livescribe Pulse last July. The Oakland-based Livescribe has raised more than $92 million in funding since 2007, according to Crunchbase.